George Floyd's Killing A 'Clarion Call' For Maine Courts To Examine Practices, Says Chief Justice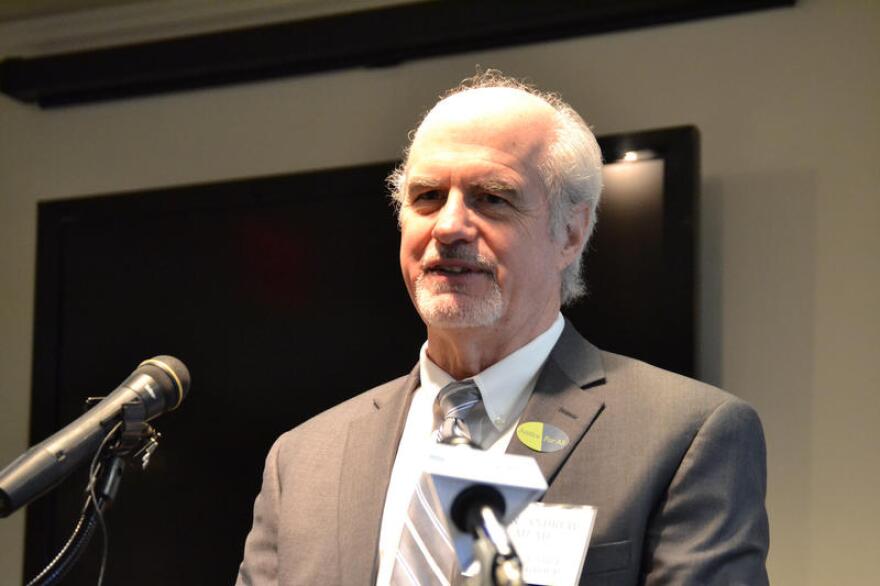 Maine's Supreme Court issued a statement last week in the wake of George Floyd's killing and the protests that followed. It noted that "racism continues to be a pervasive blight," and promised to become better educated on racism and provide training to ensure discrimination is kept out of the courts. Acting Chief Justice Andrew Mead talked with Maine Public's Morning Edition host Irwin Gratz about the court's plan, beginning with Mead's reaction to the Floyd killing video.I think my reaction was the same as any other person who saw it: shocked, horrified. It was difficult to watch. It's run time and time again, and each time I watch it, it just send chills down my spine, watching a person expire at the hands of law enforcement before our very eyes. Deeply disturbing.
So what are some of the practical first steps that you want the court to take now?
We need to really look at this - perhaps at a level that we haven't perceived before. Our first step is what I characterize as introspection - we need to look at ourselves, look at the courts. And we need to look at data. As you know, across the country, there is data existing regarding length of sentences, processes, verdicts, and so on. And we need to understand what the numbers say. From that we need to educate ourselves. We are looking to get insights - deep insights - from people and institutions that have really profound understandings and ways of looking at these situations that we don't have. And finally, to plan down the road to address the factors that have come to our attention.
Maine is, of course, a very white state, but it does have minority populations, in some cases concentrated in areas. What about making the makeup of the judiciary, or perhaps prosecutors, more reflective of the communities of color where they are in our state?
There's no better way to get the insight and input from reaching out to people in those circumstances. I would support that fully.
Does Maine have to do anything about cash bail, which has often been shown to disproportionately affect people of lower income and often people of color.
There are numerous efforts, including some with the Legislature, to look at cash bail. So the answer to that one is simply yes. At the court side, We follow the statutes that are enacted by the Legislature. And we will follow with what the Legislature provides to us in any sort of bail reform. But we have clearly reached a point in our history where bail reform is at the top of a lot of people's minds.
You mentioned, before, sentencing - and Maine does have a disproportionate percentage of people of color who do wind up in jail or in prison - do we have to look at things like mandatory minimum sentences for certain offenses?
I don't think mandatory sentences are helpful. It's easy to say that for a particular crime, a generic crime, that a particular minimum mandatory sentence will be appropriate. The problem is that there is no typical crime. I think the key to this is making sure that we as judges understand things like implicit bias and factors that may be coloring our decision down the road.
Since the Black Lives Matter protests, we're seeing some jurisdictions around the country that are revisiting the issue of "qualified immunity" for police. Do you believe officers should be held personally responsible if they use too much force? Or is there still a valid reason for allowing police to have that qualified immunity from prosecution?

That's a big ticket statutory issue that I really can't, and shouldn't, weigh in on.
Any other reforms that you are going to be looking at with the other justices and with the court system in the months ahead, areas that you think might be ripe for some changes?
I think that's what we're hoping to find out. I wouldn't want to speculate at this point, because, as I said, that's a process, and we are stepping into the introspective process at this point here. Everybody is very much on board with the message and the tone of the statement. They agree that it was a horrific incident, and that the protests that followed have really shone a light upon the specter of racism in a way at a level that we may not have perceived before. So I think a clarion call is out there for everyone to take a look at what they do and how they do it. The need to move forward on this is critical because in the judicial branch, we believe in the rule of law - that's what we live and breathe for. And if the rule of law disappears justice is impossible, and faith in our cherished institutions are lost. So these recent events absolutely require us to take a deep look at ourselves. Our commitment to the rule of law and the rule of law cannot be affected or impaired by invidious discrimination based upon race.
This interview has been lightly edited for clarity.