Maine Could Soon Implement Work Requirements For Medicaid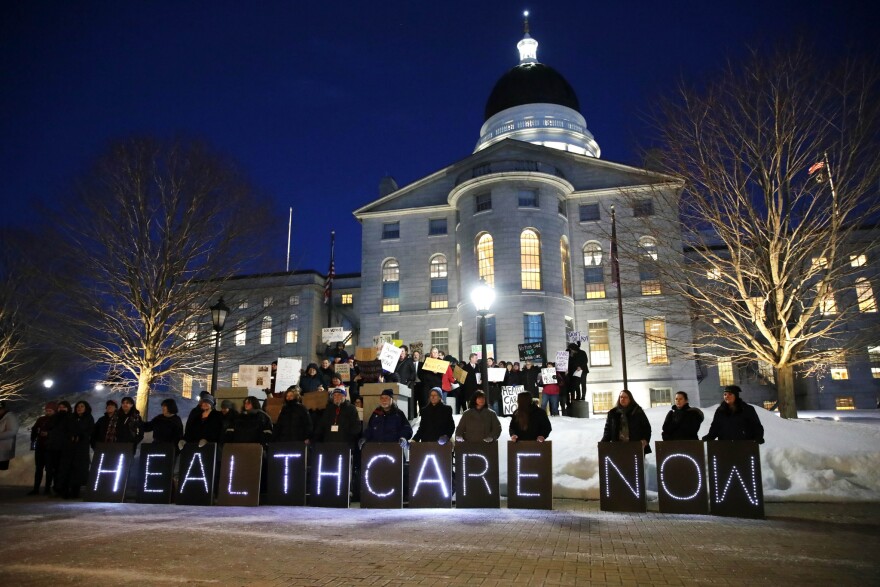 The federal government has approved Maine's request to require that Medicaid recipients work to receive benefits.
Maine is one of about a half dozen states to have work requirements approved by the Trump administration. The policy is controversial, and its future is uncertain in Maine, where a transition in state leadership is underway.
The approval of Maine's waiver to implement work requirements has been a long time coming. The LePage administration submitted its request back in the summer of 2017. A few months later, the Trump administration announced its general support of Medicaid work requirements, but it took nearly a year to grant official approval to Maine. It has now come in the waning days of the LePage administration.
"We're hopeful that with new leadership coming in, with Governor-elect Mills, who's been a really vocal, I think, supporter of improving access to affordable health coverage, that these proposals will not go forward," says Robyn Merrill, the executive director of the low-income advocacy group, Maine Equal Justice.
Merrill says the work requirements are an attempt to undermine the purpose of Medicaid, which is to provide health coverage to low income individuals who can't access it otherwise.
"We need more affordable health care, not less," she says. "These proposals take us in the opposite direction of where we need to go."
Under the waiver, Maine would require able-bodied individuals in the Medicaid program to work or to perform community service for at least 20 hours per week. Recipients would also pay monthly premiums. If recipients fail to meet the work requirements for a total of three months within a three year period, they would lose benefits.
In a written statement, Governor LePage says the work requirement will "help prioritize Maine's neediest populations and preserve the financial stability that has been achieved within the program over the last eight years." LePage goes on to say that the primary goal of public assistance is to help people, and this policy will encourage Mainers to stand on their own and take charge of their financial independence.
But Robyn Merrill rejects the idea that the work requirements will actually help people.
"They can impose restrictions and limits that will ultimately result in people losing health coverage," she says.
That's what's happened in Arkansas, where about 17,000 Medicaid recipients have lost their coverage since the state implemented work requirements in June. An analysis by the Kaiser Family Foundation found that efforts to contact recipients about the new change weren't widely successful, raising questions about how many recipients knew about the change.
Merrill says that Maine Equal Justice will likely challenge Maine's work requirement in court if Governor-elect Janet Mills doesn't terminate the waiver.
Mills' spokesperson Scott Ogden issued a written statement saying that Mills will review the waiver when she assumes office. As a general rule, he says, Mills supports training initiatives to put people to work. He notes that the governor-elect prefers incentives rather than mandates, and being healthy is a first step in being eligible for work.
According to the Kaiser Family Foundation, 60 percent of Medicaid recipients work, and a higher percentage, about 80 percent, are in families with one worker.
Originally published 5:10 p.m. Friday Dec. 22, 2018