A Summer On The Farm Offers A Different Spin On Summer Camp
An major part of summer for many kids in Maine is going to camp. They get to swim, sleep in cabins and unplug from technology.
For other kids, their summer camp is at a farm. They're out weeding gardens, collecting eggs, or picking bugs off of the potato plants. Farm camps are rising in popularity in Maine, with the current half a dozen camps filling up year after year. Some are even putting kids on waiting lists.
Broadturn Farm in Scarborough nearly fills up by mid-March. At Farm Animal Rescue of Maine, in South Berwick, the number of campers has risen from 6 to 24-kids a week in the past three years. And Wolfe's Neck Farm in Freeport saw their strongest enrollment to date this year.
"This is such a unique summer experience… it's not only fun and enriching, but it also is educational in many ways," says Miranda Chung, the camp director at Wolfe's Neck Farm.
Kids spend their days feeding the animals, harvesting fruits or veggies in the garden and learning about their environment. Chung says they also get some of the typical camp activities.
"Part of what makes it so fun is the variety, so there's something for all campers," says Chung.
The kids are excited to work with animals, but the skills they learn extend beyond that.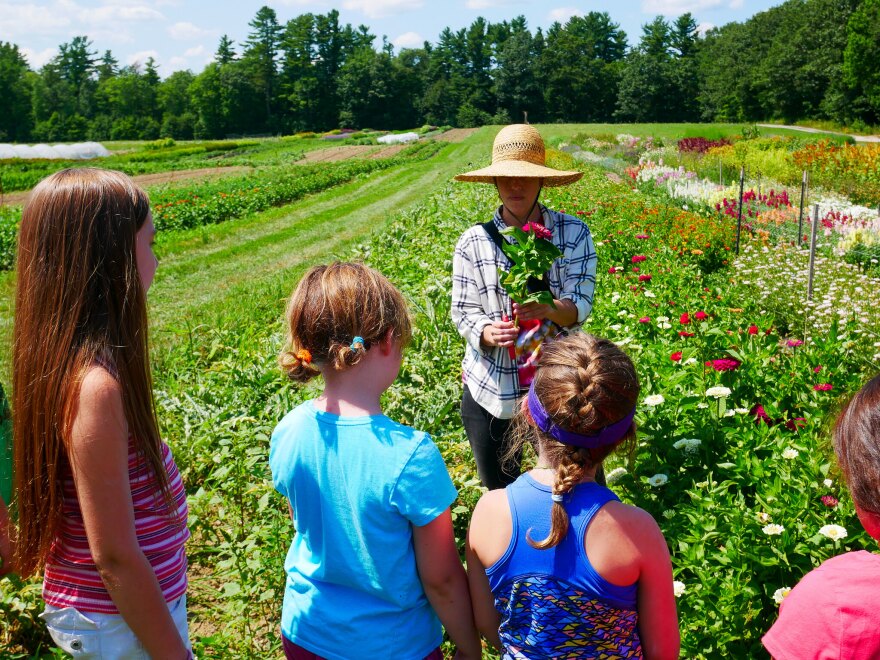 Megan Dunn, the camp director at Broadturn Farm, says the kids are able to learn where their food comes from, and they're shown how they can grow their own food at home.
"We want them to learn how to respect nature, respect the animals that provide things for us, whether it's the meat or the eggs, or just companionship from the animals," says Dunn.
The recent rise in attendance at farm camps in Maine coincides with the booming farm-to-table movement. People are looking for more locally grown food that's free from additives. Chung believes this trend has contributed to interest in their camp.
"The farm camp for all of our campers really is an opportunity for children to learn how their food extends beyond the grocery store," Chung says.
Wolfe's Neck Farm started a new farm-based cooking program this year for teens. At Broadturn Farm, campers of all ages have baking projects using the fruits and veggies they've picked in the garden.
"I really like making different kinds of foods. We just made little hand pies earlier this morning that we ate," says Ella Sobil, a 12-year-old camper at Broadturn Farm. "They had hand-picked raspberries on the inside and a gluten free crust."
One farm camp has a central focus on the farm-to-table movement. Stephanie McDonough founded Farm to Table Kids, a nonprofit in North Yarmouth. She started the camp after her five-year-old son had recovered from stage four cancer in 2017. It gave her an opportunity to work with kids and adopt a sustainable lifestyle for her family.
"I knew I could go back to my nine-to-five job, but I also knew that time with my son needed to be maximized," McDonough says.
McDonough doesn't use any chemicals on her farm. She wants kids to have a safe, hands-on experience. They're encouraged to pick any fruits and veggies and try them.
"Because we're a cancer family, we limit chemicals when we can. And certainly by growing your own food you can have control over that," says McDonough.
Katie Gasbarrone, of Gorham, says her son found a love of cooking after his experience at Broadturn Farm. She has been sending her son and daughter to camp there for five years.
"Honestly this is both of my kids' favorite camp. Every summer they are begging 'can we please go back to farm camp, can we please go back to farm camp,'" Gasbarrone says.
It's not just local kids who are going to farm camps in Maine. Families vacationing in the area will send their kids to farm camp for the day, getting a vacation of their own. Farm to Table Kids had kids from London, California, Texas and New York all in one week.
Wherever the kids are coming from, they're finding there's something special about connecting with nature and animals at farm camp, and they keep coming back, year after year.
Julie Pike is a 2019 Dowe Intern with Maine Public.
Originally published Aug. 24, 2019 at 2:26 p.m. ET.