Surge of Asylum Seekers In Portland Raises Concerns About Funding And Services
The city of Portland is moving hundreds of asylum seekers into an emergency shelter at the Portland Expo. The city is working with local groups, other municipalities, and state and federal officials to accommodate those asylum seekers after a change in federal policy. They are expecting hundreds more in the coming days.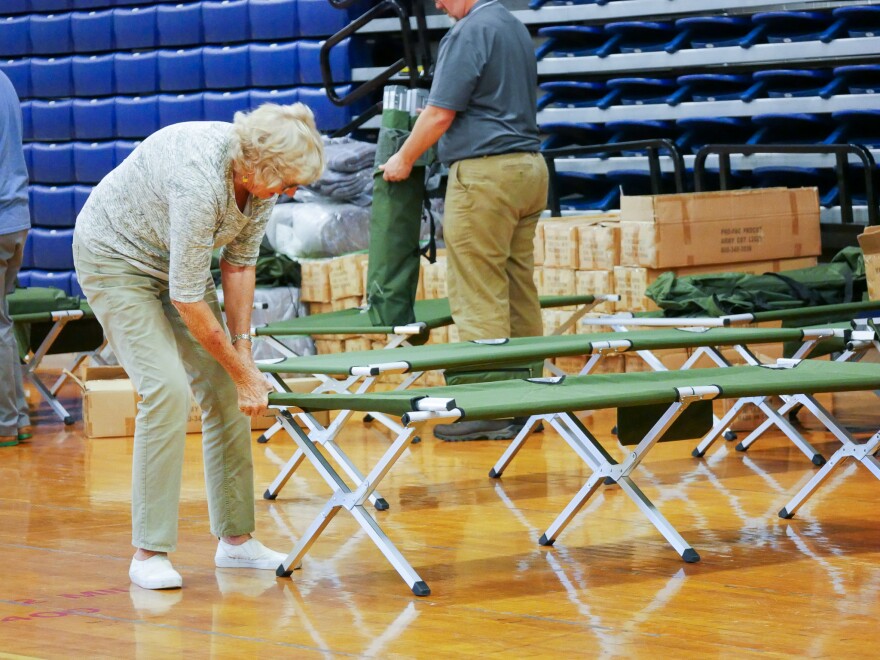 At a press conference on Wednesday afternoon, City Manager Jon Jennings told reporters that the city has acted quickly over the past few days in order to accommodate nearly 100 asylum seekers who he says have arrived since Sunday. Jennings says with likely hundreds more expected over the next few days, and city services already overloaded, the Portland Expo Center has been converted into an emergency shelter, with a plan to set up 350 cots as quickly as possible.
"We will certainly begin to ramp up the cots, as needed," Jennings says. "It's estimated that we can put 600 cots for individuals in the Expo. And that will depend on changing dynamics on the ground."
The city also points to a change in federal border policy, in which asylum seekers are being sent to cities such as Portland before the asylum process has even begun. That means they are not eligible for General Assistance.
Jennings says that he received an email from the city manager of San Antonio alerting him that 150 asylum seekers would be arriving soon.
Jennings says many of the families seeking asylum are fleeing violence or political persecution in Angola and the Democratic Republic Of Congo, and have been put on buses in Texas after reaching the southern U.S. border.
Portland Mayor Ethan Strimling says he was encouraged to see that the city is supporting those in need.
"This is what government is here for," Strimling says. "To provide for the health and safety of all of our residents."
City officials say the cost of opening the emergency shelter, which is mostly for staffing, is still unclear. Kristen Dow, Portland's Health and Human Services interim director, says the city has already reached out to several organizations for supplies and services, including linens donated by a local hospital. She says the Maine Center for Disease Control is also providing health supplies and public health nurses during the intake process.
"It is our intention to have this emergency shelter up and running this afternoon for shelter and food," Dow says.
City officials have also had communications with other local municipalities. South Portland Mayor Claude Morgan says his community hopes to provide money or other resources to help out, but says that he was disappointed recently to learn that the city is not currently prepared to operate a shelter at a facility like a community center to assist Portland. He says South Portland city officials are planning a workshop Thursday evening to discuss its response
"We have to up our game if we're going to walk the walk the way we talk our talk," Morgan says. "It is, in my opinion, it is who we are in South Portland. We are that community that wants to do every bit of what it can do."
Jennings says that Portland city officials will also meet with Gov. Janet Mills and other state and federal officials Friday afternoon to explore how they can work together on a larger response to the situation.