The Rural Maine Reporting Project is made possible through the generous support of the Betterment Fund.
VIDEO: One Firefighter Dead, Several Injured When Building Explodes In Farmington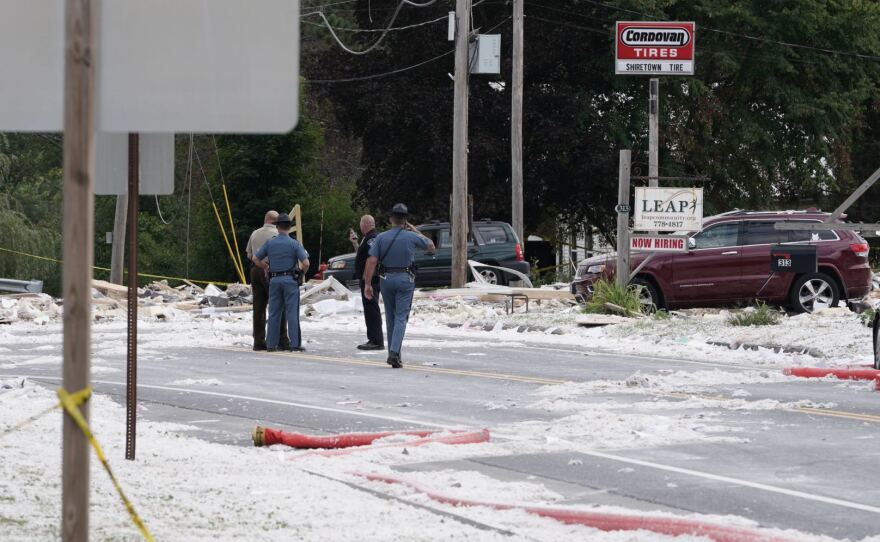 LEAP Inc. in Farmington, the site of an explosion Monday morning.
Brian Bechard
The scene of an explosion in Farmington on Monday.
Brian Bechard
The scene of an explosion in Farmington on Monday.
Brian Bechard
The scene of an explosion in Farmington on Monday.
Brian Bechard
The scene of an explosion in Farmington on Monday.
Brian Bechard
The aftermath of a massive building explosion in Farmington Monday.
Patty Wight
LEAP Inc. in Farmington, the site of an explosion Monday morning.
Patty Wight
Fire trucks and firefighters at the scene of a massive building explosion in Farmington Monday. One firefighter was killed, and several were injured in the blast.
Patty Wight
Updated 5:51 p.m. Monday:
An explosion at a social services agency in Farmington Monday morning killed one firefighter and injured seven other people.
The survivors of the blast were transported by LifeFlight and ground ambulance to area hospitals. A preliminary investigation points to natural gas or propane as the cause of the blast, which leveled the newly renovated office building.
Officials say it was a little after 8 a.m. Monday when the Farmington Fire Department received a report of a gas smell at the offices of LEAP, a nonprofit that supports people with developmental and cognitive disabilities. Shortly after firefighters arrived on the scene to investigate, the building exploded.
"I spent a year in Iraq, and it's about as close as I can explain it. It was just total devastation. I've never seen destruction like that in my career. I've been in law enforcement for 35 years, I've never seen anything like this before in my life, except overseas. It was horrible," says Franklin County Sheriff Scott Nichols, who was one of the first to respond after the blast.
The explosion was felt miles away, according to officials, and completely destroyed the two-story building. Adjacent homes, cars and a firetruck were also damaged.
Michael Bell, 68, a 30-year member of the Farmington Fire Department was killed. Seven others were injured, including Bell's brother and chief of the fire department, five other firefighters and Larry Lord, a maintenance worker from LEAP.
Scott Landry, a board member of LEAP and town selectman, says it was Lord who first detected the smell.
"He had to go into the basement to bring in some stuff from an event this weekend. He smelled the gas, he immediately went up and just herded everybody out. They were out in a safe place. The fire department came, they proceeded into the building, and that's when it exploded," he says.
Officials say one firefighter has been treated and released from Franklin Memorial Hospital. The five others are being treated at Maine Medical Center with serious injuries. Lord was flown to Mass General in Boston.
The cause of the explosion is under investigation by the state fire marshal's office, but officials say it appears it was caused by natural gas or propane. Landry says the LEAP building was newly renovated.
"We just completed the building about two months ago. Still in the process of moving all the offices into it. And it's gone. I mean there's just the cellar hole," he says.
Gov. Janet Mills traveled to Farmington - her hometown - and told reporters on Monday that the state is conducting a thorough investigation.
Our hearts go out to all those impacted by this tragedy, especially to the loved ones of the firefighter lost and others injured. I am grateful for the work of first responders who are at the scene and urge Maine people to avoid the area. (2/2)

— Governor Janet Mills (@GovJanetMills) September 16, 2019
"We want to protect all other communities from this kind of thing happening," she says. "We want to make sure we get to the cause and origin and exactly what happened and why, and make sure it doesn't happen to anybody else again."
The Propane Gas Association of New England issued a written statement saying that it's working closely with local public safety officials during the investigation. While briefing reporters Monday afternoon, Farmington Police Chief Jack Peck said that police, firefighters and emergency responders receive training for these kinds of incidents.
"We train, but I don't know that we've ever trained for something that we saw this morning. And we certainly don't expect to lose somebody that we've worked with for years and a loved one, and a member of our family," he says.
It's a loss that Nichols says the community of Farmington will be grappling with for a long time.
"The people who were injured today and killed were part of their full-time staff. And they were the ones who were the primary call. And we all know how difficult it is to man fire departments within the state, and this is really going to significantly impact Farmington and surrounding communities," he says.
Farmington churches announced they would hold special prayers and vigils Monday night for those affected by the explosion.