Accelerating warming, intense precipitation, rising sea levels — these are just a few of the signs of climate change that are happening in Maine and around the globe. What are citizens, businesses, state agencies and communities doing to cope with it and to try to reduce its future effects? That's the focus of new year-long series on MPBN. "Beyond 350: Confronting Climate Change" will explore what steps are underway, both large and small, and what challenges lie ahead.This series is made possible by the Limulus Fund.
Portland Middle Schoolers Demand Climate Action
PORTLAND, Maine — Students at King Middle School here have a message for world leaders meeting in Paris to discuss climate change: "Don't just talk about it. Do something."
Security measures in Paris have prevented climate activists there from taking to the streets. So, the students did it for them.
Friday morning about 400 kids marched to city hall, where they rallied for climate actions large and small around the world and in their own hometown.
The students at King Middle School think adults made a mess of the planet. They're worried that time is running out. And quite frankly they're scared.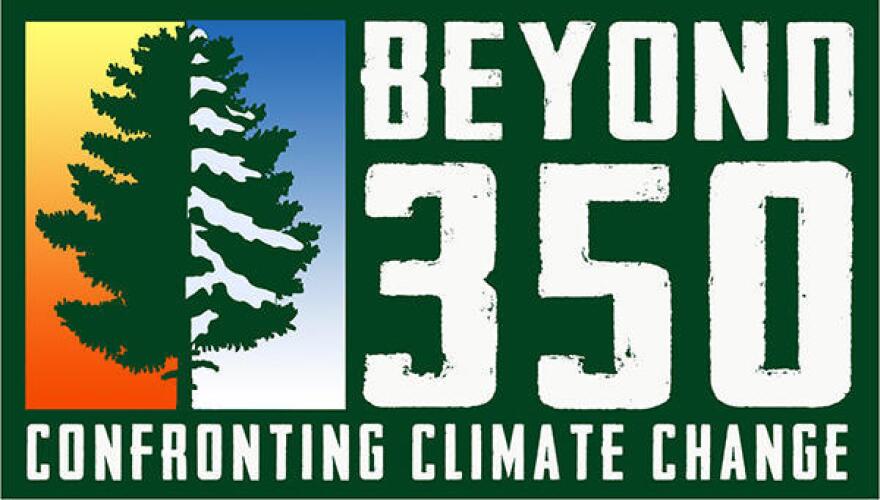 "I never liked sci-fi books or the sci-fi genre in general," says eighth grader Siri Pierce, but she says climate change feels very much like real-life science fiction. "It just sort of feels like a sci-fi novel that hasn't quite started yet, but we're in the prologue and it's not looking so great that the rest of the book will have a happy ending."
"I've read stories about people in China who've had to go outside wearing masks to protect their lungs from respiratory diseases," says Oliver Van Soest, also in eighth grade. "And a future like that scares me. I don't want to see my children grow up in that. I don't want to grow up in that myself."
And Perla Ingabire worries a lot about whether there will even be a place for people on the planet.
"I'm worried that I won't be able to like grow old and see my children grow up and all the stuff," she says.
But despite these worries, Pierce, Van Soest and Ingabire are convinced there are ways to confront climate change, to adapt to it and to save the special places and species on the planet. They say these actions need to happen fast. And as members of their school's climate march committee, they're hoping that their voices will be heard.
Van Soest says the march is a call to action.
"Hey, we're all in middle school," he says. "We can form a march. We can close the busiest street in Portland and march all the way to city hall and try to make an example to set to the rest of the city and hopefully, the world."
Along their route, onlookers like Anne Johnson of Hollis cheered them on.
"It's just wonderful that kids are picking up on this," she says. "It's their world that's coming up. They have to do something about it. We all do but if they're aware — this is great."
Once at city hall, students read poems and statements, including one from Pierce, who says the debate about whether climate change is real is over and it's time to move on.
"We believe Portland has the potential to switch to 100 percent renewable energy," she says, "and it is essential that we do."
Mayor Mike Brennan told the crowd that he agrees adults aren't doing enough to address climate change. But he says Portland is making progress.
He's hoping the city will become the site of the largest solar farm in Maine sometime next year. And he urged the students not to give up on their demand to be heard.
Beyond 350: Confronting Climate Change is made possible by a grant from the Doree Taylor Charitable Foundation.