With Labor Shortages Hurting The Bottom Line, Maine's Construction Industry Reaches Out To Women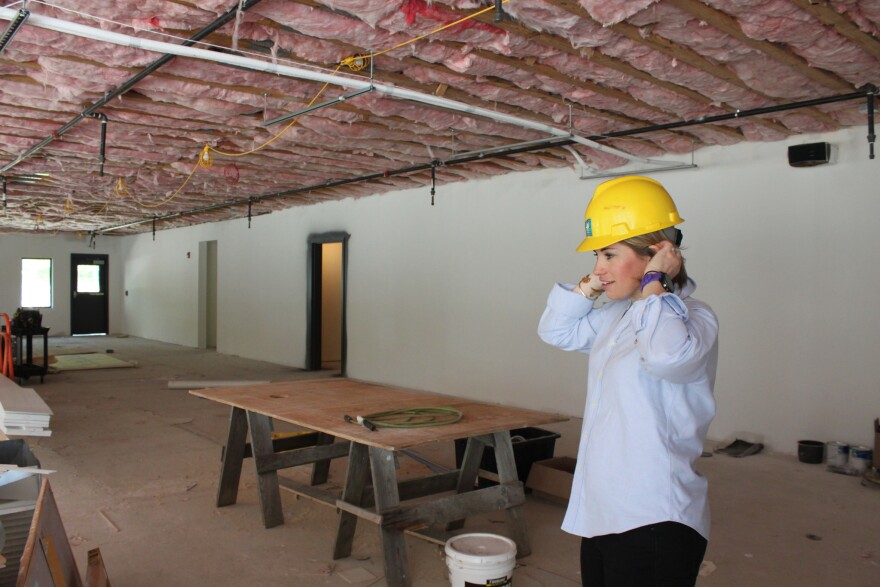 Ask people in the construction industry about the problems they're facing, and one thing comes up more than just about any other:
"There's definitely a construction worker shortage in Maine," says Meredith Kirkmann.
Kirkmann is an assistant professor of construction engineering at the University of Maine, and she says efforts to address that shortage tend to run up against one big demographic obstacle.
"Our workforce is very male, and very white," Kirkmann says.
Maine construction workers are also aging, as is Maine's workforce in general. But about half of the potential workforce is female, and Kirkmann says that's an untapped resource in construction.
"We're like 95 percent done with this project, we've been working on it since this fall," says Deirdre Wadsworth, owner of Hardypond construction.
Hardypond is a company based in Portland that does projects around southern Maine. On a tour at a building site in Scarborough, Wadsworth says the labor shortage in construction is having a real impact on the bottom line.
"General contractors, subcontractors, nobody has enough people to do what they need to do," Wadsworth says. "There are two courses of action, people are either taking on the work and not being able to do it in the time needed, or they're not taking on the work."
Since she took over the family business a few years ago, Wadsworth has been hiring more women. Hardypond is now 33 percent female, as compared to the state average of just under 2.5 percent. She says because there are more women in the company, it's a place more women want to work.
29-year-old Jennifer Somma works in the field for Hardypond. She's a skilled worker and, thanks to her small size, she can fit into tight spots on the jobsite.
"I always liked cars, my father will laugh at this, we always had a dead car in the driveway growing up, and I always wanted to learn to fix it," Somma recalls.
Somma says she studied automotive technology at Portland Arts and Technology High school, the career and technical education school in Portland.
"I graduated one of the top in my class. I was the only female in the automotive program," she says.
Eventually she moved over to construction. She says in the early days she felt like she had to prove herself.
"I used to feel like because I'm a girl, I have to work harder than they are just to be an equal. But, especially here, that's not the case at all, it just gets easier, I guess, as you go," she says.
Construction is often characterized as a sexist industry – it may conjure images of hard-hatted workers hooting at women walking by.
And that does happen. A 1998 study by the Occupational Safety and Health Administration found that 88 percent of women in construction in the United States, reported being sexually harassed. That same study also found that a lot of the health and safety hazards of the job were worse for women.
No one interviewed for this story reported being harrassed. But Kirkmann says that throughout the course of her career, she has stopped bringing pens and paper to meetings on a project that she is running, because she doesn't want to be asked to take notes.
"There are certainly stereotypical parts of the construction industry. There are awkward meetings, and there's inappropriate comments, that certainly happens," she says.
But Kirkmann says times are changing, and it is becoming more common to see women being welcomed onto a jobsite.
"There are attitudes on construction sites that were considered acceptable 40 years ago, that are absolutely not today, but you still have some of the same people."
She says younger workers expect worksites to be more inclusive, more diverse, and safer. That's what smart companies want, too.
"We need people, and we need women, and we need people of different backgrounds," says Kirkmann. "I think it's well know that a more diverse workforce leads to better projects and better outcomes."
And, of course, a bigger labor pool.
Meanwhile the industry is working with the UMaine system, community colleges and the technical schools, and hiring pretty much every one of their graduates. Some of the bigger construction companies in the state, like Cianbro and Sargeant, will train people for free.
Hardypond's Wadsworth says she is always keeping an eye out for women already working in construction, as well.
"I am a woman, and I notice when there are other women on job sites. And when I have the opportunity to hire someone I will go look, depending on what we're looking for, for a female, and it might be someone I saw on working for someone else," she says.
This story was originally published June 15, 2018 at 2:35 p.m. ET.