Accelerating warming, intense precipitation, rising sea levels — these are just a few of the signs of climate change that are happening in Maine and around the globe. What are citizens, businesses, state agencies and communities doing to cope with it and to try to reduce its future effects? That's the focus of new year-long series on MPBN. "Beyond 350: Confronting Climate Change" will explore what steps are underway, both large and small, and what challenges lie ahead.This series is made possible by the Limulus Fund.
Amid UN Climate Conference, Mainers Insist 'We Are Still In' Paris Agreement
Nearly 200 world leaders are in Bonn, Germany, for a United Nations conference this week to discuss ways to speed up goals of the 2015 Paris Climate Agreement.
President Donald Trump has indicated that the U.S. will bow out of the accord and on Monday, members of his administration used the conference to defend coal and fossil fuels instead. Meanwhile, a "stealth" U.S. delegation is in attendance to promote the idea that Americans are still in. It's a message that's being repeated in Maine and across the country.
This story is the latest installment in our occasional series "Beyond 350: Confronting Climate Change."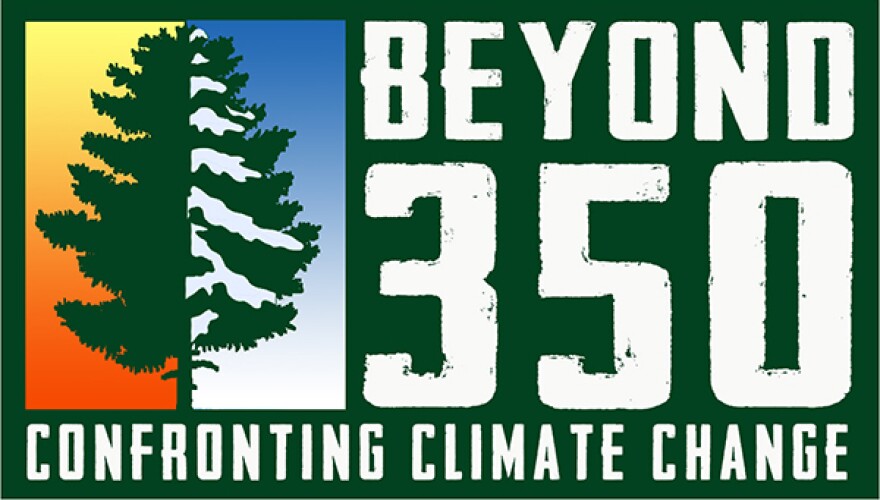 An advisor to Trump and a panel of American energy executives tried to make the case on Monday that fossil fuels can be cleaner and more efficient. But their message was drowned out by dozens of environmental activists who filled the room.
The Trump team's remarks come at the same time as the release of a new report showing that carbon dioxide pollution levels are increasing this year after a three-year hiatus. And that's one reason that a U.S. coalition representing cities, states, businesses, faith groups and other organizations is also in Bonn, to deliver a different message to the world.
"The American government may have pulled out of the Paris Agreement but the American people are committed to its goals, and there is nothing Washington can do to stop us," says former New York City Mayor Michael Bloomberg, part of a growing network of more than 2,500 leaders who are committed to addressing climate change through the Paris Agreement and through a swift transition away from fossil fuels to clean energy.
Calling themselves We Are Still In, the network is represented in all 50 states, including Maine.
"So even though Donald Trump has recklessly withdrawn the U.S. from the Paris climate agreement and even though Gov. LePage agrees with Trump, I am here to declare that we are still in," says Caitlin Marshall, a mother and an employee of ReVision Energy in Portland, where she works scheduling solar installations. "We are still in when it comes to reducing fossil fuel consumption and carbon pollution and we are still in building the transition to what we actually need tomorrow."
Speaking in Portland as part of a national effort to highlight local climate action in support of the UN climate conference, Marshall says the marketplace is making the case for alternative energy on its own. Solar jobs now account for one of every 50 jobs created in the U.S, she says. And the cost of solar is competitive with other options.
But states can still take the lead on climate change policies, says Sean Mahoney of the Conservation Law Foundation, who points to Massachusetts as a leader in clean energy.
"Massachusetts has a statute, the Global Warming Solutions Act, to reduce carbon emissions by 80 percent by the year 2050. That legislation is enforceable. So it takes not just the good intentions of a Legislature and puts it out as a goal but it actually puts it into law," he says.
That means if the state is not meeting its commitments, the law is enforceable. And, Mahoney says, it's being carried out by businessman and Republican Gov. Charlie Baker. In fact, four New England states — Connecticut, Massachusetts, Rhode Island and Vermont — have pledged to work toward the goals of the Paris Agreement by reducing greenhouse gas emissions.
They're part of a larger alliance of 14 states and territories that are working to do the same. And those alliance states, activists point out, are now outpacing the rest of the U.S. in economic growth, with 1.3 million clean energy jobs.