Maine GOP Sen. Collins Unveils Proposal to Replace Obamacare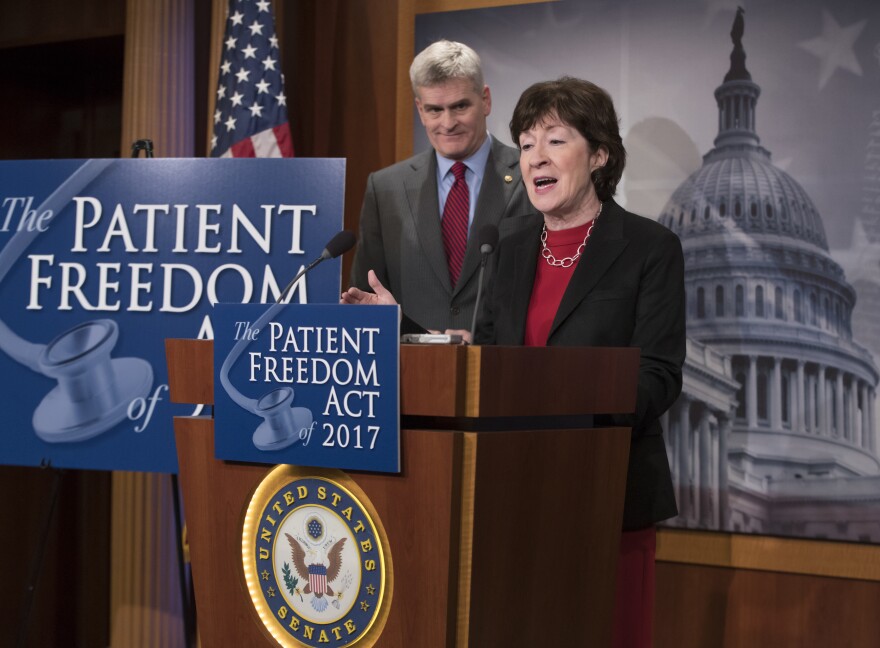 On Monday, Republican U.S. Sen. Susan Collins of Maine joined Republican U.S. Sen. Bill Cassidy of Louisiana to unveil their proposal to replace the Affordable Care Act.
Collins says the Patient Freedom Act of 2017 would give states and patients more choices and increase access to quality, affordable health care. But advocates in Maine say the devil's in the details, and at this point, it's not clear whether the proposal can live up to its promises.
The Patient Freedom Act offers states three choices. Option No. 1: keep the Affordable Care Act, along with its subsidies, Medicaid expansion and individual and employer mandates. Skipping ahead to option No. 3, states could forego any federal involvement with health insurance. In between is option No. 2, which Collins suspects will be the most popular.
"Which we call the default option," she says.
The default option would give states federal money to enroll people who can't access health insurance into a standard plan. These would be high-deductible plans with basic pharmaceutical coverage, plus some preventive care.
"It would be financed through health savings accounts," Collins says.
The federal government would help states fund these health savings accounts by providing the same amount of money they qualify for under the Affordable Care Act, including for Medicaid expansion.
"Whether or not they have chosen to do so," Collins says.
The Patient Freedom Act would maintain consumer protections, like allowing children to stay on their parents' insurance until age 26, ban lifetime limits on insurance policies and prohibit discrimination against people with pre-existing conditions. Collins says her bill would also prevent a gap in coverage because the law would be phased in by 2020.
"In fact, our goal is to expand coverage to those nearly 30 million Americans who still don't have coverage under the Affordable Care Act," she says.
By covering more people, plus cost transparency provisions in the bill, Collins says the Patient Freedom Act will also help stem soaring health care costs, which the Affordable Care Act has failed to do.
But Emily Brostek of Consumers for Affordable Health Care says there are still too many unknowns about Collins' proposal.
"What are we looking at? Because the ACA has, for all its faults, set a pretty high bar," she says.
Brostek wants to see hard numbers that show the default plan would actually provide more, better coverage. While she's glad to see a concrete proposal that recognizes everyone should have a basic level of coverage, she isn't clear how that would work.
How would people enroll, she asks. And how high will their premiums and deductibles be? Along with the flexibility this proposal gives states, Brostek says, may come some risks.
"Is there some kind of guardrail that would ensure states aren't making things worse for people?" she says.
Democratic state Rep. Drew Gattine, who has served as co-chair of Maine's Health and Human Services Committee, wonders whether this proposal will ultimately shift some of the federal government's costs back to states.
"It's got some elements of per-capita caps and block grants, and I just worry that, knowing that we have an aging population and some growing health care needs among people with disabilities, and obviously we have this awful opioid and heroin crisis, I just think we need to look very carefully at these types of proposals," he says.
A spokeswoman for Maine's Department of Health and Human Services did not respond to requests for comment. Republican state Sen. Eric Brakey, the co-chair of Maine's Health and Human Services Committee, issued a written statement saying he's encouraged by Collins' plan, which "puts states and free market competition at the forefront of determining what works best for the little guy."
Collins says she knows that her proposal is not perfect, and that she is open to refinements. But she says she hopes that elements of the Patient Freedom Act will prove attractive enough to win over the eight Democratic votes it needs to get through the Senate.