Suggestions for good books to read this summer, from novels to children's books to non-fiction and more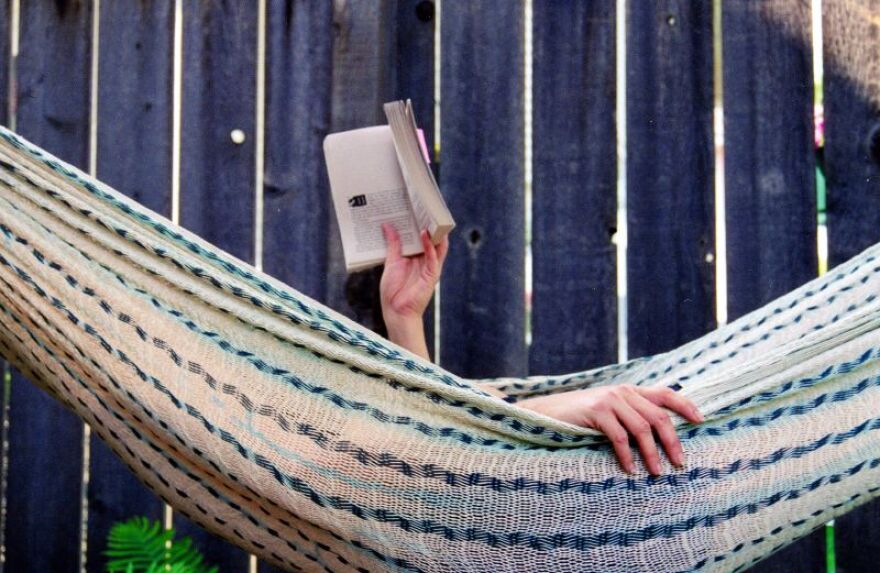 Our panel of authors and book lovers share what they're reading and hope to read this summer, and offer recommendations for favorite novels, non-fiction, children's and young adult books and other genres.
Panelists:
Josh Christie, co-owner, Print: A Bookstore
Kathryn Miles, award-winning journalist and science writer; author of five books, including Quakeland and Trailed: One Woman's Quest to Solve the Shenandoah Murders; scholar-in-residence for the Maine Humanities Council
Morgan Talty, citizen of the Penobscot Indian Nation; author of a new story collection Night of the Living Rez (comes out July 5, 2022)
VIP Caller:
Heidi Carter, bookseller, Bogan Books in Fort Kent
Here are the list of books mentioned on today's show:
Enjoy and happy reading!
From Morgan Talty, citizen of the Penobscot Indian Nation where he grew up. He received his BA in Native American Studies from Dartmouth College and his MFA in fiction from Stonecoast's low-residency program. His story collection Night of the Living Rez comes out July 5. He lives in Levant, Maine. His website is www.morgantalty.com
A Calm and Normal Heart by Chelsea T. Hicks (Unnamed Press, June 2022)
"The stories in Chelsea Hicks's A Calm & Normal Heart are full of quiet truths and wry, soulful secrets. It is a book that doesn't at all feel like a debut story collection, but rather written with startling beauty and the flawless precision of a master storyteller. It is a genuine page-turner full of sentences so beautiful they demand re-reading."
If I Survive You by Jonathan Escoffery (Riverhead, September 2022)
This is a collection of connected short stories that reads like a novel, that reads like real life, that reads like fiction written at the highest level. --Ann Patchett, author of The Dutch House
Dirtbag, Massachusetts by Isaac Fitzgerald (Bloomsbury, July 2022)
A Publishers Weekly Top 10 Memoir of the Season A BookPage Most Anticipated Book of 2022 "Any fool can confess. It's the rare writer who reveals, and Dirtbag, Massachusetts is a heart on the sleeve, demons in check, eyes unblinking, unbearably sad, laugh-out-loud funny revelation."-MARLON JAMES, author of Moon Witch, Spider King Isaac Fitzgerald has lived many lives.
Panics by Barbara Molinard (Feminist Press, August 2022)
A close friend and protégé of Marguerite Duras, Barbara Molinard (1921-1986) wrote and wrote feverishly, but only managed to publish one book in her lifetime: the surreal, nightmarish collection Panics. These thirteen stories beat with a frantic, off-kilter rhythm as Molinard obsesses over sickness, death, and control.
Ruin by Cara Hoffman (PM Press April 2022)
RUIN is both bracingly timely and eerily timeless in its examination of an American state in free-fall, unsparing in its disregard for broken institutions, while shining with compassion for all who are left their wake. Cara Hoffman's short fictions are brutal, surreal, hilarious, and transgressive, celebrating the sharp beauty of outsiders ...
From Kathryn Miles, award-winning journalist and science writer. She is the author of five books: Adventures with Ari, All Standing, Superstorm, Quakeland, and Trailed: One Woman's Quest to Solve the Shenandoah Murders. She currently serves as a scholar-in-residence for the Maine Humanities Council. More information about Kathryn's work can be found at her website: www.kathrynmiles.net
Animal Bodies by Suzanne Roberts
A fearless and beautiful collection essays that examines loss, grief, and how we can continue to live with open hearts.
The Christie Affair by Nina DeGramont
DeGramont takes a brief and relatively unknown moment in Agatha Christie's life and weaves a fascinating story filled with fully fleshed characters and more plot twists than the great mystery writer herself could ever accomplish.
The Storyteller by Kathryn Williams
Maine's own YA author spins a fantastic tale that combines Russian history with contemporary questions of identity and truth telling. Great for YA readers, but adults will love this page turner as well!
You're the Most Beautiful Thing that Happened by Arisa White
A professor at Colby College, White is known for her edgy, poignant, lyrical verse. This is not White's most recent collection, but it is my favorite. We all need to be reminded that we — and the love we feel — can be beautiful. And these are the perfect poems to savor, one at a time, over the course of a season.
From Josh Christie, co-owner of Print: A Bookstore
The Hurting Kind by Ada Limón
With Limón's remarkable ability to trace thought, The Hurting Kind explores those questions—incorporating others' stories and ways of knowing, making surprising turns, and always reaching a place of startling insight. These poems slip through the seasons, teeming with horses and kingfishers and the gleaming eyes of fish.
Breaking Bread: Essays from New England on Food, Hunger, and Family, edited by DEBRA SPARK and Deborah Joy Corey
Nearly 70 renowned New England writers gather round the table to talk food and how it sustains us—mind, body, and soul. A collection of essays by top literary talents and food writers, Breaking Bread celebrates local foods, family, and community, while exploring how what's on our plates engages with what's off: grief, pleasure, love, ethics, race, and class.
The Letters of EB White
This collection touches on a wide variety of subjects, including the New Yorker editor who became the author's wife; their dachshund, Fred, with his "look of fake respectability"; and White's contemporaries, from Harold Ross and James Thurber to Groucho Marx and John Updike and, later, Senator Edmund S. Muskie and Garrison Keillor. Updated with newly released letters from 1976 to 1985
This Time Tomorrow by Emma Straub
Straub's delightful time travelling novel celebrates New York City and explores the central father-daughter relationship. Native New Yorker Alice is approaching her 40th birthday, she is working in the admissions office of the exclusive and expensive Belvedere School, which she herself had attended, leaving her feeling as if she had never left as she now interviews the children of parents ...
From Heidi Carter, Bookseller, BOGAN BOOKS, On America's First Mile, Fort Kent
Finding Perfect by Colleen Hoover
Finding Perfect is a novella that brings back several of Colleen Hoover's most beloved characters. Told from the point of view of Daniel from Finding Cinderella, readers will finally get the conclusion they've been hoping for.
Carrie Soto is Back by Taylor Jenkins Read
In this powerful novel about the cost of greatness, a legendary athlete attempts a comeback when the world considers her past her prime.
Fly Girl: A Memoir by Ann Hood
An entertaining and fascinating memoir of "gifted storyteller" ( People ) Ann Hood's adventurous years as a TWA flight attendant.
Hatchet Island by Paul Doiron
The eerie, windswept Hatchet Island off the coast of Maine becomes the site of a double murder and a disappearance in this thriller from bestselling author Paul Doiron.
Recommendations from our listeners -
Lucky Turtle by Bill Roorbach
"No one writes about love or the American wilderness like Bill Roorbach . . . Thrilling." —Lily King, author of Writers & Lovers
Nuclear Family by Joseph Han
Set in the months leading up to the 2018 nuclear missile false alarm, a Korean American family living in Hawai'i faces the fallout of their eldest son's attempt to run across the Demilitarized Zone into North Korea in this "fresh, inventive, and at times, hilarious novel" (Kaui Hart Hemmings, author of The Descendants)
The Bluest Eye by Toni Morrison
Pecola Breedlove longs for blond hair and blue eyes, so that she will be as beautiful and beloved as all the blond, blue-eyed children in America. In the autumn of 1941, the marigolds in her garden will not bloom, and her wish will not come true. Pecola's life is about to change in other painful and devastating ways.
Moon in Full by Marhpeen Chann
Moon in Full, a contemporary coming-of-age story, shines light on the search for truth and compassion, and unwinds the deep-seated challenges of finding authentic voice and true identity in our complicated era. Author Marpheen Chann's journey weaves through housing projects and foster homes; into houses of worship and across college campuses, and plays out in working-class Maine where he struggles to find his place in a majority white community and to reconcile his fears and longings as a young gay man with the devoutly religious beliefs of his adopted family. Chann, a second generation Asian American, recounts what he has learned, what he has lost, and what he has found during his evolution from a hungry refugee's son to a religious youth to an advocate for acceptance and equality.
Eye Contact by Vivian Woolf
Perfect grades and a thousand extracurriculars for her high school transcript, Isobel Winters is overachieving at everything...except in the boyfriend department. People at her school can't seem to see past her straight A's to the passionate, sarcastic, and irreverent girl underneath. They may think she's all buttoned up, but it's only because the right guy hasn't tried to unbutton her yet. Enter Evan Alvarez, swaggering into his new school with that wicked, bad boy smile. He's gorgeous, magnetic, and beneath that careless charm there seems to lie some hidden sweetness. But he comes on way too strong, and he doesn't always keep his cool. And he is definitely hiding something. If he is a bad boy, why does bad have to be so irresistible? When senior year starts for the Munich, Maine, Class of '96, Evan has one and only one goal in mind. Isobel Winters. Her friends can't agree on him. Kara thinks he's great, but Michelle thinks he's sketchy and that Isobel should watch out. It's so hard to think clearly – especially when his eyes are locked on hers with a stare that could burn through her clothes. Is this going to be the steamy romance she's been waiting for, or are things about to take a darker turn? And what the hell did she just find in her locker?
Heart Stones - Maryann Cocca-Leffler
HEART STONES is a fast-paced middle grade magical realism mystery novel aimed at ages 8-12. It follows Gale Hope and her friend Celia as they piece together the clues of the Heart Stones. It's a story of love, community and friendship and the power of believing. Born in a Blizzard ten years earlier, Gale was given the name "Gale Hope," to symbolize the hope that the town needed at the time. In the recent devastating storm, heart shaped stones begin to wash up on the shore of her coastal town, which begins a mystery. Gale once again helps to heal a broken community and this time changes it for good.
Talk Radio by Ham Martin
Vivien Kindler, on impulse, gets a job hosting a local phone-in radio show. She has an unusual idea: she thinks that all her callers have worth, are interesting, and if they'll just stay on the line and talk with her, everyone else will think so too. The "regulars" serve up a fun tapestry woven on the sturdy warp of the coastal Maine landscape: a delivery guy who reads Vivien poems written on his route; a lady broken by the long-ago death of a child; a retired, one-legged gardener who once built Navy ships. Others remind her that she is "from away" and will never belong. Is Vivien's gentle radio counsel really doing anything—or is it all just talk?
Don't Get Me Started by Eddie Adlemen
Laughter seems to be in short supply these days. Pandemics, politics and pettiness have all contributed to the shortage. But help is on the way. Don't Get me Started to the rescue. This collection of 35 mostly humorous essays will take you on a whimsical joyride that satirizes everyday topics like cell phones, junk food, social media, politics, mission statements, home ownership, aging rock stars, computers, allergies, clueless drivers, and (grrr) being put on hold. If you're looking for a book that you can pick up anytime, turn to any page and just feel good, this one has your name on it. After all we've been through lately, don't we deserve a good laugh? Don't Get me Started is perfect as a coffee table book - or on your nightstand when you just need something light to ease you off to sleep. But wait – there's more! Four short one act plays with characters so real, you'll feel like you've known them all your life. So whadya' say? Ready to get started on Don't Get me Started? Eddie Adelman is an AP Award winning journalist.
Any book by Tess Geritsen
Internationally bestselling author Tess Gerritsen took an unusual route to a writing career. A graduate of Stanford University, Tess went on to medical school at the University of California, San Francisco, where she was awarded her M.D. While on maternity leave from her work as a physician, she began to write fiction. In 1987, her first novel was published. Call After Midnight, a romantic thriller, was followed by eight more romantic suspense novels. She also wrote a screenplay, "Adrift", which aired as a 1993 CBS Movie of the Week starring Kate Jackson. Tess's first medical thriller, Harvest, was released in hardcover in 1996, and it marked her debut on the New York Times bestseller list. Her suspense novels since then have been: Life Support (1997), Bloodstream (1998), Gravity (1999), The Surgeon (2001), The Apprentice (2002), The Sinner (2003), Body Double (2004), Vanish (2005), The Mephisto Club (2006), The Bone Garden (2007), The Keepsake (2008; UK title: Keeping the Dead), Ice Cold (2010; UK title: The Killing Place), The Silent Girl (2011), Last To Die (2012), Die Again ( 2015), Playing With Fire ( 2015), I Know A Secret (2017) and The Shape Of Night (2019). Her books have been published in forty countries, and more than 40 million copies have been sold around the world. Her series of novels featuring homicide detective Jane Rizzoli and medical examiner Maura Isles inspired the TNT television series "Rizzoli & Isles" starring Angie Harmon and Sasha Alexander.
Other Wise and This Other Way of Knowing, by Mary Lou Bagley (books 1 & 2 in the series set in Maine.)
Gifted with second sight—an intuitive ability to see things not accessible through ordinary perception—Margaret Meader is both an integral part of her Maine community and an outsider. Margaret's story (introduced in Other Wise) continues in This Other Way of Knowing. As the wheel of the year turns, October brings an early snowfall. When a body is found in the snow, Margaret works with Detective Jay Horner and his enigmatic partner, Cynthia Green, to help solve the murder. Her visions and dreams offer images, messages, and sudden insights—some more confusing than helpful. When the harsh light of media attention focuses on her and "this other way of knowing," Margaret revisits the pain of rejection that darkened much of her early life. In deciphering the echoes from her past, she finds succor in the many circles of connection woven into her present. Disparate elements draw Margaret into an ever-expanding mystery in book two of the series.
Believing: Our Thirty-Year Journey to End Gender Violence by Anita Hill
From the woman who gave the landmark testimony against Clarence Thomas as a sexual menace, a new manifesto about the origins and course of gender violence in our society; a combination of memoir, personal accounts, law, and social analysis, and a powerful call to arms from one of our most prominent and poised survivors.
Unbound: My Story of Liberation and the Birth of the Me Too Movement by Taran Burke
From the founder and activist behind one of the largest movements of the twentieth and twenty-first centuries, the "me too" movement, Tarana Burke debuts a powerful memoir about her own journey to saying those two simple yet infinitely powerful words―me too―and how she brought empathy back to an entire generation in one of the largest cultural events in American history.
Know My Name: A Memoir by Chanel Miller
She was known to the world as Emily Doe when she stunned millions with a letter. Brock Turner had been sentenced to just six months in county jail after he was found sexually assaulting her on Stanford's campus. Her victim impact statement was posted on BuzzFeed, where it instantly went viral--viewed by eleven million people within four days, it was translated globally and read on the floor of Congress; it inspired changes in California law and the recall of the judge in the case. Thousands wrote to say that she had given them the courage to share their own experiences of assault for the first time.
Dawndark by Jonny Bolduc
A book of poetry overlaid with original landscape photography taken around the Lewiston and Oxford Hills area.
All the Secrets of the World by Steve Almond
Lorena Saenz has just been paired with Jenny Stallworth for a school project by a teacher hoping to unite two girls from starkly different backgrounds. Jenny is pretty and popular, and Lorena is quickly drawn into the family's picture-perfect suburban lifestyle. Jenny's mother, Rosemary, is glamorous, but needy—she treats Lorena like a friend, if only to break up the monotony of lonely afternoons. Jenny's father, Marcus, spends his days teaching and his nights wandering the desert, absorbed in his research on the scorpions of Death Valley. Outwardly, they are the perfect family, poised for success in 1981 Sacramento at the dawn of a glorious American decade. Lorena finds her access intoxicating and alluring, a far cry from her life in the small apartment she shares with her single mother. But the veneer is shattered when Marcus disappears. The prime suspect: Lorena's troubled older brother, Tony. To uncover the truth, Lorena must embark on an unforgiving odyssey into the desert, into the secrets and lies of the Stallworth family, and the dark heart of America's criminal justice system. A shape-shifting social novel, All the Secrets of the World is a propulsive tour de force from a writer at the height of his powers.
A Fickle Tide & Granite and Bones - The Pyke Island Mysteries in Downeast by Moe Claire
Contemporary mysteries set in Downeast Maine where the fictional Pyke Island setting - the weather, the extreme tides, the rocky landscape born of volcanoes and carved by glaciers - is as much a character as the trio of amateurs who solve murders and stop mayhem while keeping secrets from the police and each other.
North by Northeast2: New Short Fiction by Maine Writers
The sixteen writers whose stories appear in North by Northeast 2, Littoral's second anthology of short fiction by Maine writers, are keen observers whose stories take us into our own communities – our towns and cities, our woods and fishing villages, our homeless encampments and amusement parks, hardware stores and VFW halls and backyards and bars. Here we meet characters who may seem familiar, but who are bound to surprise us, whose stories are told with verve and skill, and oftentimes, with humor.
The Sons of Fez: A Moroccan Time Travel Adventure by Kay Hardy Campbell
Moroccan tour guide Ibrahim brings a busload of students from a summer Arabic program to stay in the medina (old city) of Fez, right next door to a newly-opened time portal. When a student goes missing, Ibrahim looks for him and slips into the past, where they find themselves in a fight to save the city. Along the way they come face to face with the mysteries of the medina, where history lives around every corner.
Jean and the Vaccine by Sonny Dean
Jean and the Vaccine makes the experience of vaccination easier for kids. It can be tough for kids to understand why their grownups are subjecting them to an injection. And it can be hard for grownups to explain why vaccines are necessary and how they work. Factual and scientifically accurate, this book breaks down the basics of vaccination to give kids a better understanding through a fun, age-appropriate story. Jean learns what to expect when she gets her injection, how it works to protect her, and why she needs it. With this knowledge she can bravely do her part to protect herself, her family and friends, and her community.
We Stand With Ukraine: One Equals Many by Sonny Dean
Seeing the unspeakable horror of the invasion of Ukraine, many of us feel helpless and struggle with how to explain it all to the children in our lives. We at Little Lambda Books believe strongly that every single one of us can do our part to help, by calling our elected officials and urging action, raising money for relief efforts, fighting disinformation, and voting into power those who will do the right thing. It is more important than ever to realize the power we have together and remember that one vote can truly change the world.
The Yellow Square of Stonewall by Sonny Dean
The story of the Stonewall uprising has been adapted for young children in this book with a timeless message. A yellow square struggles to belong in a world full of pink circles and blue triangles. When she is rejected, she finds a home at Stonewall, a place where everyone understands that being different is good. All is well until the pink circles and blue triangles decide Stonewall must be destroyed. The Yellow Square of Stonewall is a story that honors the true history of the movement and gives children an introduction to Stonewall while managing to be age appropriate and utterly charming to read.
Child Zero by Chris Holm
Child Zero is roundly situated in scientific plausibility and grounded in America's harsher realities of racism and xenophobia. Holm paints a rich, and frightening, view of the near-future wherein our last line of defense against sickness, infections, and plague have completely collapsed.
The Storyteller by Kathryn Williams
With the help of a supremely dorky, but undeniably cute, local college student named Evan, Jess digs into the century-old mystery. But soon Jess realizes there's another, bigger truth waiting to be revealed: Jess Morgan. Because if she's learned anything from Aunt Anna, it's that only you can write your own story.
Stepping Stones & Footprints Stepping Stones - 50 Stories & Poems by Maine Writers Ages 6 - 11
Between My Ribs Between My Ribs
A Telling Room Young Writers & Leaders Chapbook
Over the past dozen years, three-hundred-and-seventy-eight students have come through our doors for the Young Writers & Leaders program, found a corner in our writing center, and put their stories down on paper for readers like you. What you'll find on the pages to come are the stories that each student chose to share heeding the advice from program alums who said to, "write something that feels comfortable and worthy of sharing." You'll hear about the influence of big brothers, how a trip to Sudan made someone feel whole, what it felt like to process a loved one's death over a screen, surviving the jungles of Columbia and Panama, creating a school's first prayer room, an adventurous trip to Boston, and so much more.
I'm Your Neighbor Books strives to build a stronger America, one where immigrants are welcomed and where first-through-third-generation Americans truly belong.
We facilitate deep engagement with the children's books that represent our New Arrival and New American communities. By curating, loaning, and gifting these diverse titles with educational materials, we:
* Start conversations on modern immigration
* Refute false narratives about communities of color
* Create emotional connections to a vast diversity of voices
* Share the joy and strength of immigrant and new generation families
* Build the cultural competency of all readers
* Lay the groundwork for cross-cultural communication
AudioFile Magazine - for recommendations of great audiobooks
Maine Writers and Publishers Alliance - MWPA brings together Maine writers, editors, publishers, and literary professionals to sharpen their craft, create community, celebrate great writing, and lift the state's literary culture.
McSea Books is an award-winning children's book publisher with a commitment to producing quality children's literature. Our titles convey the true essence of New England and captivate readers of all ages. We connect talented writers with artists to share their brilliant stories with our readers. Our titles encourage and foster hands-on learning and engage readers with authentic and relevant topics.