Bill Would Move Wind Power Project Farther From Monhegan Island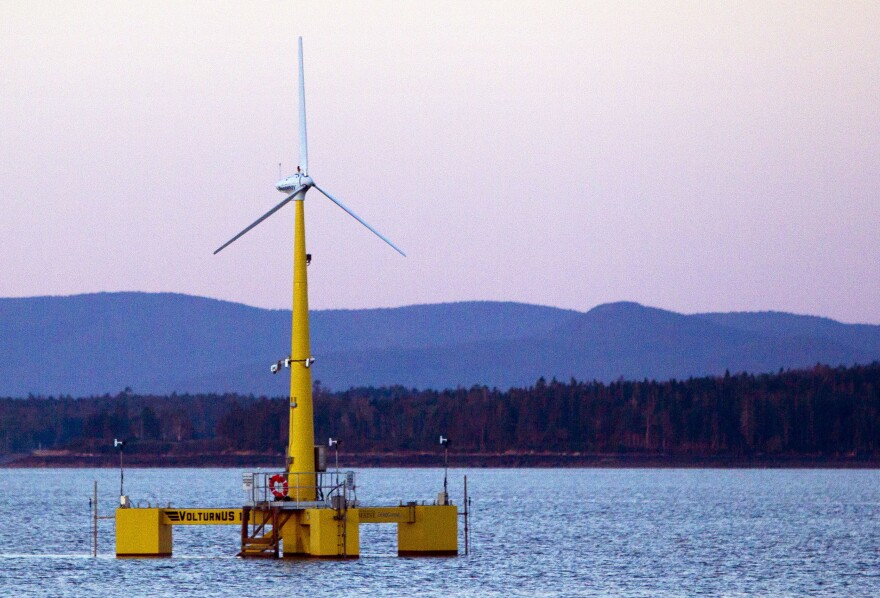 An ongoing dispute over a planned 12-megawatt floating offshore wind operation off Monhegan Island has now taken stage before the Maine Legislature.
Sen. Dana Dow, a Waldoboro Republican, has submitted a bill that would move the current project site a little more than two miles from the island to an area that would be more than 10 miles away.
Travis Dow, no relation to Sen. Dow, is the president of Protect Monhegan, a group that wants the twin 600-foot turbine wind project moved farther away from the island. He says what began as a small demonstration pilot project by the University of Maine and its partners has grown to a scale that's beyond many islanders' expectations.
"They stated this as one small project that was supposed to be in the water for two periods of five months, and now there are two turbines over 610 feet or somewhere in that ballpark for 20 years," Travis Dow says.
A hearing date for Sen. Dow's bill has yet to be scheduled, and when it does happen, the senator is likely to take no position on it.
"That's my job, is to put bills in for my constituents, so that's what this is," he says.
Sen. Dow says he submitted the bill at his constituents' request and because he believes further discussion of the issue is useful.
"In my looking at it, it's like a big construction project and the neighbor next door files a lawsuit to try and stop it and to make sure everything is legitimate; so I think that's what this is, basically," he says.
Travis Dow says environmentalists are concerned about the effect that the massive towers and turbine blades will have on tourism.
At the University of Maine, Jake Ward says project partners Maine Aqua Ventus have established all of their data on the project based on its current proposed siting 2 1/2 miles offshore. To resite it to an area 10 miles offshore, Ward says, would jeopardize investments for the test project, including a $40 million Department of Energy grant.
"There just isn't time nor budget to start from scratch, so eventually we would not be able to complete the priorities in order to complete the daily commercial demonstration project and that project would just go away," he says.
Although Travis Dow says opponents of the plan can't wait any longer to challenge the project, he also says there are others on Monhegan Island who want to see the how a community-benefit package offered by the partners will eventually shape up.
The project was approved by the Legislature and the Public Utilities Commission in its current form and location. The Aqua Ventus partners, namely Emera Inc., Cianbro Corp. and the University of Maine and its Advanced Structures and Composites Center are planning on a 2019 construction date.