Accelerating warming, intense precipitation, rising sea levels — these are just a few of the signs of climate change that are happening in Maine and around the globe. What are citizens, businesses, state agencies and communities doing to cope with it and to try to reduce its future effects? That's the focus of new year-long series on MPBN. "Beyond 350: Confronting Climate Change" will explore what steps are underway, both large and small, and what challenges lie ahead.This series is made possible by the Limulus Fund.
Wolfe's Neck To Focus On Environment, 'Regenerative Farming'
It used to be known as Wolfe's Neck Farm in Freeport, but from this week on, the 600-acre coastal farm will be known as Wolfe's Neck Center for Agriculture and the Environment. Underscoring the center's new name is the advancement of what's known as "regenerative farming."
These are cutting-edge practices that kick organic standards up a notch. The goal is to train the next generation of farmers to be climate resilient as they reduce their own carbon footprints.
This story is the latest installment in our occasional series "Beyond 350: Confronting Climate Change."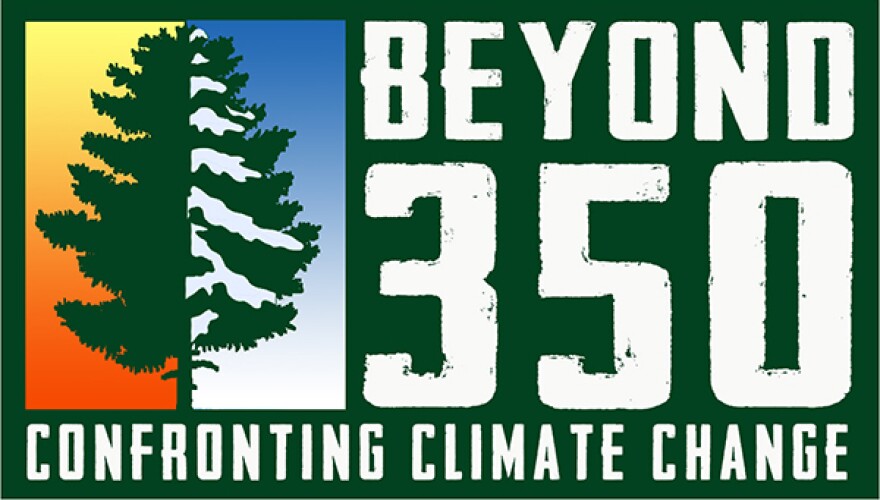 If you want to get the dirt on regenerative farming, you've got to see what's going into the ground — literally.
"Chicken manure is, what you could say is, hot. It can burn up the grass if it's applied in too much concentrations," says Dave Herring, the executive director of Wolfe's Neck, where 100 laying hens are kept in a roving hen house on the farm's pastures.
Every few days a movable fence that surrounds the henhouse and the birds is picked up and relocated. Herring says it takes the cage-free concept to a whole new level. And the outside hens provide other benefits.
"And what they're doing is they're doing some pest control, so they're gonna eat the bugs that we don't want here and they're also going to add nutrients to the soil," he says.
Chicken manure isn't the only enhancement. When vegetables aren't growing in the four-acre garden, there are cover crops planted here to suppress weeds, slow erosion and improve overall soil health.
"Tomato" Tom Prohl, the farm's production educator, says it's a way to keep roots in the ground. And that's important because plants suck carbon dioxide from the atmosphere through photosynthesis.
"This is the one time of the year for about two weeks where I allow bare soil and tillage, and this is just because we're kind of in this in-between zone where we need to have some of these crops in the ground, but as soon as we can get all of this stuff donated, gleaned and harvested, we're gonna put a cover crop of either oats and barley down and everything will be covered for the winter," he says.
Wolfe's Neck, which already emphasizes farm-based education, plans to continue its popular summer camp and school field trip programs. But it will focus additional resources on improving organic and regenerative farming practices. That means more research about sustainable agriculture and more education about carbon storage.
Herring says the idea is to prepare the next generation of farmers to adapt to and even mitigate climate change.
"We want to develop a network of farms where we can put in place, and continue to test, these tools so that we can kind of create a groundswell of understanding about how to manage your farms in a changing climate and help the climate stop changing," he says.
Herring says agriculture has to be part of the solution, since estimates show that as much as a quarter of greenhouse gas emissions worldwide come from producing food. Livestock, such as cows raised for beef and milk, are big culprits, and their methane output is expected to grow significantly over the next decade.
At Wolfe's Neck, more than three-dozen organic dairy cows are herded into the milking parlor twice a day. A few years ago the farm partnered with yogurt producer Stonyfield Organic to offer a two-year training program for organic dairy farmers.
Josh Harlan, an apprentice from Missouri, isn't sure he wants to stay with dairy, but definitely wants to farm in Maine.
"Everything's much more connected to ag in Maine, especially for small-scale farming, than it is most other places that I've been to," he says.
And nothing says "regenerative farming" like a small-scale farm. Wolfe's Neck is hoping to build on the apprenticeship program and establish itself as a leading authority on the subject.
This story was originally published Oct. 12, 2017.