Maine's federal lawmakers get reprieve for lobstermen in national spending bill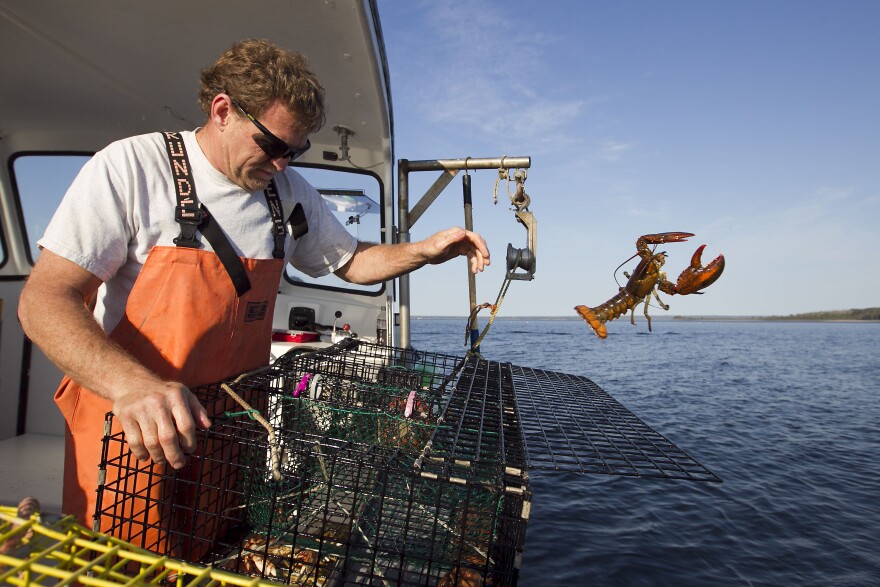 Maine's lobster fishery will have much longer to comply with federal rules aimed at reducing the risks to the endangered North Atlantic right whale population, if a government spending bill clears the U.S. Congress this week.
Maine's congressional delegation slipped an amendment into a must-pass federal government spending bill, the details of which were released Tuesday.
The proposal would give the National Marine Fisheries Service until 2028 to issue new rules aimed at reducing right whale injuries and deaths from entanglements in lobster gear.
In a joint statement, all four of Maine's federal lawmakers and Gov. Janet Mills called the amendment a "simple compromise" to protect lobstermen's livelihoods.
"We have always said that we will pursue any and all policy solutions to protect our hardworking lobstermen and women along Maine's coast," they wrote.
But conservation groups are sharply critical of the move by Congress. Brett Hartl of the Center for Biological Diversity says a six-year timeline will set the endangered right whale population on an "irreversible" path toward extinction. There are fewer than 350 right whales remaining, and environmentalists say there are just 70 breeding females.
"Is there a chance that we can save the right whale still in 2028? Yeah, sure. It maybe was a 50-50 proposition before. Now it's like 95-5 against," Hartl said.
In its own statement, the Maine Lobstermen Association dismissed the idea that the industry could play a role in the species' potential extinction and said it was encouraged by the new congressional proposal.
"Congress is providing time to allow the lobster fishery to continue to operate while a new, lawful plan — based on realistic assumptions and the best scientific and commercial information — is developed without decimating this critical industry and the coastal and island communities that depend upon it," Patrice McCarron, MLA executive director, said in a statement.
And fishermen and Maine House Republican Leader Billy Bob Faulkingham said that while he's pleased with the new proposal, he's not sure even six years will be enough time to produce new right whale protections that satisfy both federal officials and the Maine lobster industry.
He believes that at the end of the next six years, the Maine fishery will successfully prove that there's no need for additional risk reductions at all.
"Very rarely do we have any interaction with [right whales]," Faulkingham said. "There hasn't been any known entanglements since 2004. There's never been a known right whale death. We just don't really think that lines up with the science they're using that says we have to reduce 98% of our risk."
Conservationists say it's difficult to identify the exact cause of an entanglement or which fishery is responsible because the whales drown, and they're tough to recover. It's why they've pushed for stronger whale protections but agreed with a federal court ruling last month that gave the lobster fishery two years to develop new regulations.
"It is highly unlikely for Congress to come in and try to undo a court order, and I think there's a separation of powers argument to be made that it's not appropriate," said Erica Fuller, a senior attorney with the Conservation Law Foundation.
CLF is one of several environmental groups that has pushed for stronger protections for right whales in court. It's too early to say whether environmental groups will pursue any additional legal action, Fuller said.
"Today we're focused on being extremely disappointed in the rider and in the Democrats that voted for it," she said.
Beyond setting a new six-year timeline for additional regulations, the proposal also includes at least $40 million to research and implement new gear and fishing techniques. And it deems that current federal rules on right whale protections are sufficient through 2028.
Hartl believes that could preclude any additional lawsuits aimed at protecting right whales from the impacts of the lobster fishery over the next six years.
"The practical effect is that the harm to right whales must be addressed in other ways, which means even more aggressive restrictions on vessel speeds and the possibility of ship strikes and much more intensive restrictions on potential offshore wind," he said.
Fuller said the proposal also received little to no public feedback, but she's resigned to the fact that the amendment is part of what's considered must-pass legislation.
"There's not likely to be calls to shut down the federal government over right whales," Fuller said. "I don't see any hail Marys coming through at this time."
Congress is expected to pass the spending package before federal lawmakers leave for the holidays at the end of this week.