Why Language Matters When Describing Substance Use Disorder In Maine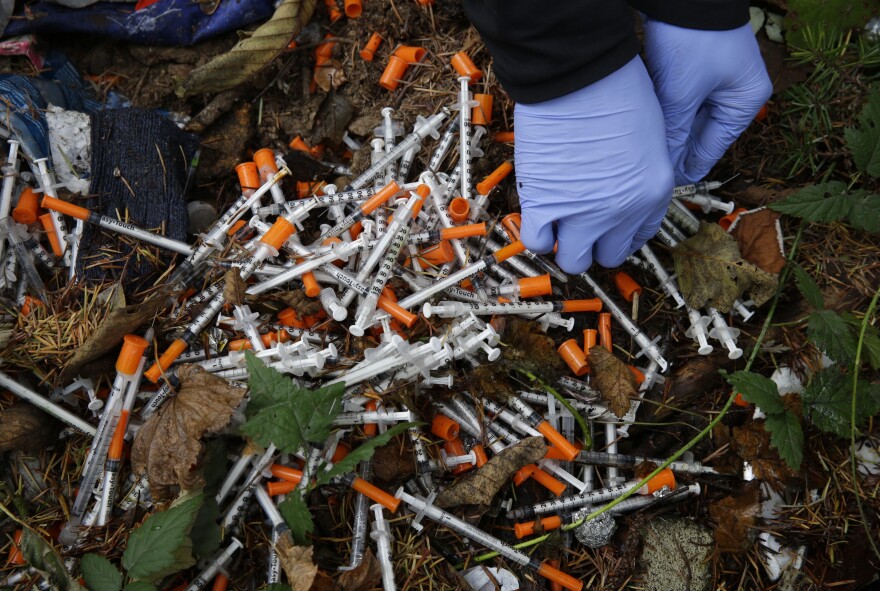 A new law took effect on May 1, changing the language used to describe substance use in Maine's laws.
The law seeks to do a small part of the work that's required to deal with the state's opioid crisis, by moving toward destigmatizing the way we describe it. For example, the law removes references to terms such as alcohol and drug abuse and replaces them with "substance use disorder." Rather than saying alcoholic or drug addict, someone will be described as a "person with substance use disorder."
It's a small step, but one that people who work in the recovery field say is important. Katie Fullam Harris, a senior vice president of government relations at Maine Health, which testified in favor of the bill, spoke with Maine Things Considered Host Nora Flaherty about the changes.
Flaherty: One of the responses I've heard to this is, "why does this matter if it's just language?" How do you respond to that?
Harris: As someone who works in the medical field, I see this stigma attached to addiction and people with substance use disorder pervasive throughout medical professionals as well as society as a whole. When we start to change the language that we use we start to make it OK to talk about, to think about substance use disorder differently, about it as being part of a regimen of health care diagnoses that are among many diagnoses that can be effectively treated. We've talked about this in the behavioral health field, around mental illness, around substance use disorder services for many years, and we know that it truly makes a difference when you start to talk about it differently.
Flaherty: How does this new law fit in with the larger recommendations from the task force?
Harris: This law is a step among a number of recommendations that the task force made. This was a nice step in that it didn't have a cost attached to it — it was simply having our government and our laws and rules reflect state-of-the-art thinking related to substance use disorder and addressing substance use disorder as a chronic disease. The other recommendations made by the task force — and there were a number of recommendations — represented the need for treatment, the need for prevention services, and several of those remain on the Legislature's docket as unfinished business at this point in time.
Flaherty: What are the next steps to dealing with the crisis, from your perspective?
Harris: It is absolutely critical that we as a state provide the resources and develop the service capacity necessary to ensure that we're meeting the needs of people with opioid use disorder and other substance use disorders where they are. We as a state really need to develop a robust system of services that ensures that everyone with substance use disorder has access to treatment, when and where they need it, and at this point in time we are a far cry from that. We have a bill, LD 1430, sitting on the Appropriations Table that would take some important steps to providing substance use disorder treatment for individuals with opioid use disorder in the state. They would have access to acute services when they need them, as well as services as they start to recover and step down and need fewer medical services, and may need more social types of supports. So this bill really reflects the need for the social determinants of health, as we say in the the lingo — things like vocational services, access to housing and other services that are so important for an individual's recovery.
This interview has been edited for clarity.
This story was orignally published May 15, 2018 at 3:37 p.m. ET.