'Noise Is A Public Health Issue:' South Portland Residents Ask FAA To Make Changes To Flight Paths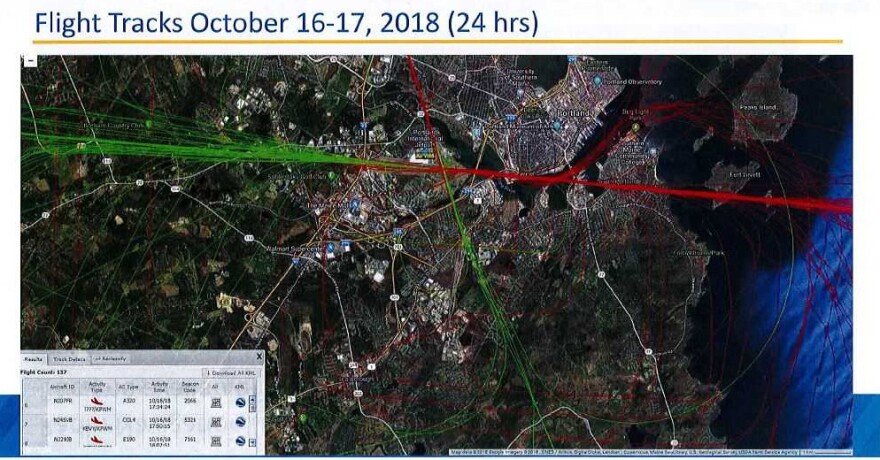 Imagine it's 11:30 p.m., you're winding down for bed or already under the covers, and it's silent except for the sound of waves lapping in the nearby harbor. Then you hear an ear-splitting roar — the sound of a plane flying over South Portland, where some residents are pressuring the Federal Aviation Administration to change flight paths due to noise.
The Portland International Jetport, which handles Maine's busiest passenger air traffic, was the target of more than 1,400 noise complaints last year. Jetport officials say they hope to make some changes to address the problem.
Engine noise is an old problem for the Jetport, particularly for residents who live beneath common flight paths.
"These are regular, commercial airlines that are so noisy I actually have thought about wearing earplugs when I'm outside, just to protect my already damaged hearing," says Triss Critchfield, who lives on Bay Road in South Portland. "I do think noise is a public health issue."
To minimize the effect on neighborhoods below, planes approaching Portland Jetport from the east fly over the entrance to Portland Harbor, turn left down the Fore River, then veer right at the Casco Bay Bridge. But Jetport Manager Paul Bradbury says this "harbor visual approach" can't be safely used at night when pilots can't see the landmarks.
Enter NextGen, a federal program to modernize air traffic control. Bradbury says it would allow properly equipped aircraft to follow a similar harbor approach at night and reduce the noise heard in South Portland.
"It can actually fly curves," Bradbury says. "So, really interesting, it is the next level. This is part of the benefit of NextGen."
The drawback is that it takes time to make these changes: time to upgrade equipment in aircraft, time for FAA pilots to actually fly any new procedure, then time for airlines to train pilots in its use.
"Twenty-one percent in July of the aircraft arriving at the Portland International Jetport for scheduled commercial traffic could fly a modern, new RNP. We don't have one yet. So we're requesting the FAA, if possible, to look at developing one that could work for Portland approach to two-nine," Bradbury says.
RNP, or required navigation performance, is a type of high-precision flight path. Two-nine is the runway pilots are headed for when they approach from the east.
At a meeting last June, an FAA official told a meeting of South Portland's Noise Advisory Subcommittee that an RNP wouldn't work because so few planes are equipped for it and because it might require an additional waiver.
While he did propose some lesser alternatives, it didn't really satisfy Bradbury or Republican U.S. Sen. Susan Collins of Maine, who took up the issue with Carl Burleson, the FAA's acting deputy director, at a congressional subcommittee hearing July 31.
"I'm seeking from you a commitment to take a hard look at this and to consider working with the Portland Jetport to get the RNP approach approved as quickly as possible or, if that's not the right answer, help us come up with the right answer to deal with this noise problem for the residents of South Portland," Collins said.
NextGen's primary purpose is to make flying more efficient, saving flyers time, the airlines the cost of fuel, and reducing pollution into the environment. It has done that, in part, by creating more direct routes into airports such as Denver International, San Jose, Miami International, Baltimore-Washington and Boston.
In every one of those places, the new approach routes have generated new noise complaints from residents previously unaffected. But Bradbury believes the change in Portland will help more than it hurts.
"In a perfect world, all aircraft would arrive from the west, over the less populated areas that are very rural and zoned appropriately, and they'd depart to the west. But when we have to depart or arrive from the east, over South Portland and Portland, the idea there is can we have a path that keeps it over the water and keeps the sound pressure levels off the urban areas or the heavily developed areas."
Portland did achieve a breakthrough years ago, creating a protocol pilots follow when taking off to the east, so they largely stay over the water. The hope is that NextGen will improve night approaches and provide some relief for the residents of South Portland.
Originally published Aug. 13, 2019 at 3:29 p.m. ET.