Amid Coronavirus, Mainers Are Living Life Online. Can The State's Broadband System Meet The Demand?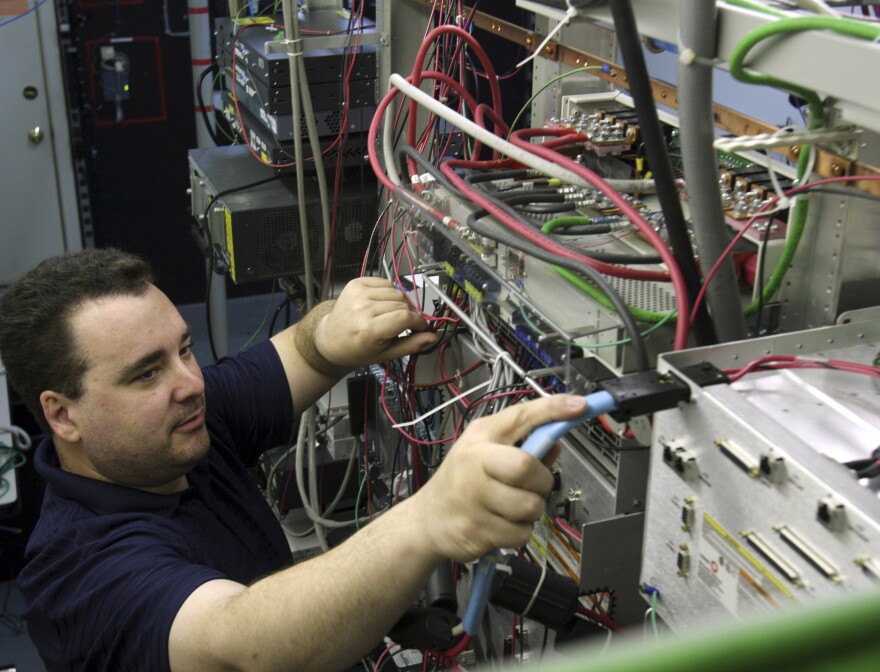 Mainers are using the internet at what some experts are calling unprecedented levels - working, trying to attend school, and amusing themselves at home - all in an effort to prevent the spread of COVID-19. But is Maine actually prepared for its population to live life online? A rash of slow speeds and data drop outs would imply no. Maine Public's Jennifer Mitchell spoke recently with two industry experts here in Maine: Kerem Durdag - president and chief operating officer at GWI, one of the parties instrumental in the state's Three Ring Binder project; and and Jeff Letourneau, the executive director of the University of Maine System's Networkmaine.
Kerem Durdag: Thank you for having us.
Jeff Letourneau: Good to be here.
Mitchell: So Jeff explain the problem then.
Letourneau: Oftentimes what happens is this congestion, or just too much traffic, for what we often call the last mile of the local loop. The entrance into a person's home or business gets congested, or the next step up, the aggregation of those connections in the community itself, may become congested.
So we're really just talking about a bottleneck in the plumbing somewhere.
Letourneau: Exactly.
Kerem, would you agree with that?
Durdag: Absolutely correct. Part of the challenge for Maine - in fact, most of rural America - is the infrastructure that carries the internet is essentially built on technology and infrastructure, you know, from 40, 50 years ago. And it is only in the recent time frame where, whether from a business point of view or from a residential point of view, the demand for bandwidth or the demand for speed has outpaced what that 20th century technology could keep up with. As Jeff said, it's really hard to push a signal on an infrastructure that was never meant to have that kind of bandwidth. And so that's why you get the bottleneck.
So it's like trying to race a Ferrari down a trail that was built to accommodate, say, an oxcart.

Durdag: Exactly. And there's 160 million Americans who are in the same boat together, all together, just like me.
So are Maine's home internet connections up to the challenge of hosting a whole home-based workforce, like like we're seeing right now?
Letourneau: Well, as with most things, right, that depends - big, big portions of Maine aren't up to the task, in terms of availability of quality broadband. Places that are lucky enough to have what's called "fiber to the home" type connections won't experience problems. Where things get really challenging is places that still may have only DSL availability, or what's called "fixed wireless connectivity," where the bandwidth is available over those technologies just aren't going to be able to keep up with the demand.
So the prohibition now on gatherings the questions about live streams have come up, and the U.S. CDC [Centers for Disease Control} made a recommendation that folks who have, say, a funeral for a loved one, that they explore the idea of instead live streaming the services. And I'm just wondering how feasible that is for a place like Maine?
Durdag: No, it's not. As Jeff will also attest, if you are participating in a live stream and you are on a video, it's not the download speed that counts, it's the upload. So in fiber-based systems, the download and the upload are of equivalent high speeds. In either cable systems, wireless or DSL, you know, the download is higher than the upload. So essentially you'll choke on on the bandwidth and the experience will be fairly miserable, if it actually works at all.
So that brings me to my next question, which is what are some more specific areas of concern? For example, we've heard that there's a big demand right now for telemedicine, and also possibly students wanting, or maybe needing, to access distance education. I'm just wondering what their experience might be like.
Letourneau: Right. So it's not "possibly" - they're definitely trying to use new modes of teaching and learning as K-12 schools have shut down across the state, and as everybody's heard in the news, the university system, just about every place. Live communications - actually live two-way communications - is the absolutely most challenging application when you're constrained on bandwidth, or have poor connectivity. You know, we're very time sensitive as humans, so we notice large delays in audio in two-way communications or poor quality video, those sorts of things. So any kind of active learning, which is what everybody's driving to be able to do with students not being in the school buildings, becomes a very large challenge. Same thing goes with telehealth. The levels of traffic that the commercial, residential networks are now experiencing day after day after day, is unprecedented.
Durdag: And there's no immediate, immediate, immediate solution to this because the scale of it is large and wide. And there are technological solutions to it. But those just take time. So it's not like you can flip a switch and have people just, you know, be able to participate in 21st century infrastructure when you actually have to build it. And it just so happens that I think it's now evident to society at large how necessary this is.
Letourneau: I agree 100%.
And that sort of anticipates the question I'd like to ask both of you, which is what are the lessons that you would like folks to take away from what we're going through right now?
Letourneau: The internet - or broadband - has been viewed by the general population as a utility, much like electricity, like traditional phone services. But we have a framework that treats that connectivity as an entertainment service. That has to change somehow. The way you approach delivering an entertainment service versus something that delivers societal benefits - totally different. We're finding that they don't mesh very well. So that's probably the biggest lesson to learn.
Durdag: Yeah, absolutely true. Telemedicine, remote working, telecommuting, government services - you know, the internet is civilization. And, in a good way, I think people are now aware of the necessity and the need of it being very robust. And now the need is manifested itself in a very, very tangible way.
Kerem Durdag is president and chief operating officer at GWI. Jeff Letourneau is executive director of Network Maine. Thank you both for joining us.
Letourneau: Thank you for having me.
Durag: Very kind of you.
This interview has been lightly edited for clarity.