As Herring Fishery Closes, Maine Fishermen Turn To Plentiful 'Pogies' For Bait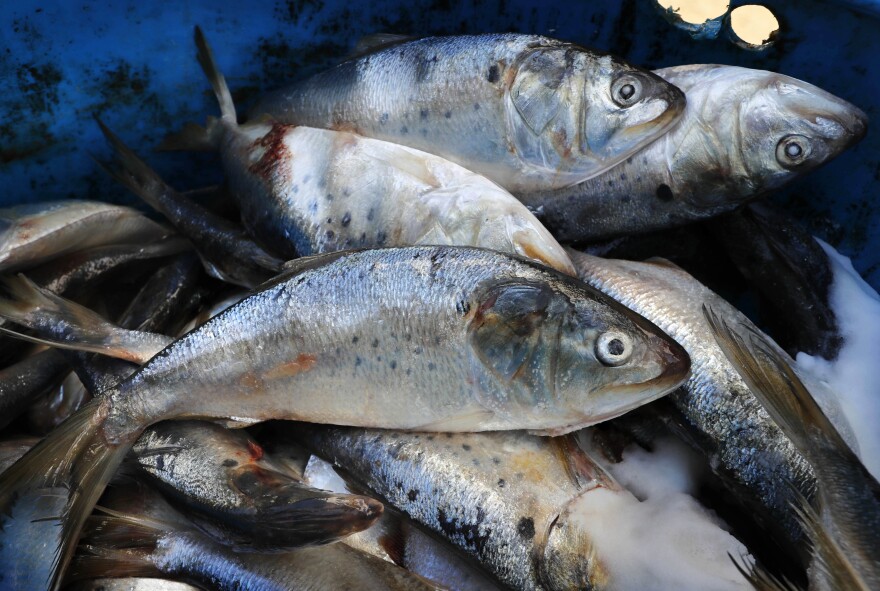 Good news for Maine lobstermen: Just as a scarcity of the herring they use to bait their traps has closed that fishery, state officials are expanding the fishery for another baitfish - menhaden, or pogies that have shown up in large numbers off Maine for the third year in a row. Four southern states where pogies have not been abundant this year are transferring some of their federal quotas for the fish to Maine.
Large menhaden populations have been recorded off this state for decades, but only periodically. State Marine Resources Coordinator Melissa Smith says with the Gulf of Maine's waters warming, and North Atlantic currents changing, the state may see them return more often.
"Those environmental factors might tip the scales of the pogies natural cyclical nature," Smith says, "so that we do see them in Maine perhaps a little more frequently."
Maine fishermen have caught more than 8 millions pounds of pogies this year already. Federal quota contributions from Delaware, Maryland, Virginia and Florida will add almost 4 million pounds more to the state's allowable catch.
Maine's herring fishery closed last Thursday; the expanded pogie fishery opens Monday.