Thanksgiving Day murder ignites debate over Maine's involuntary treatment program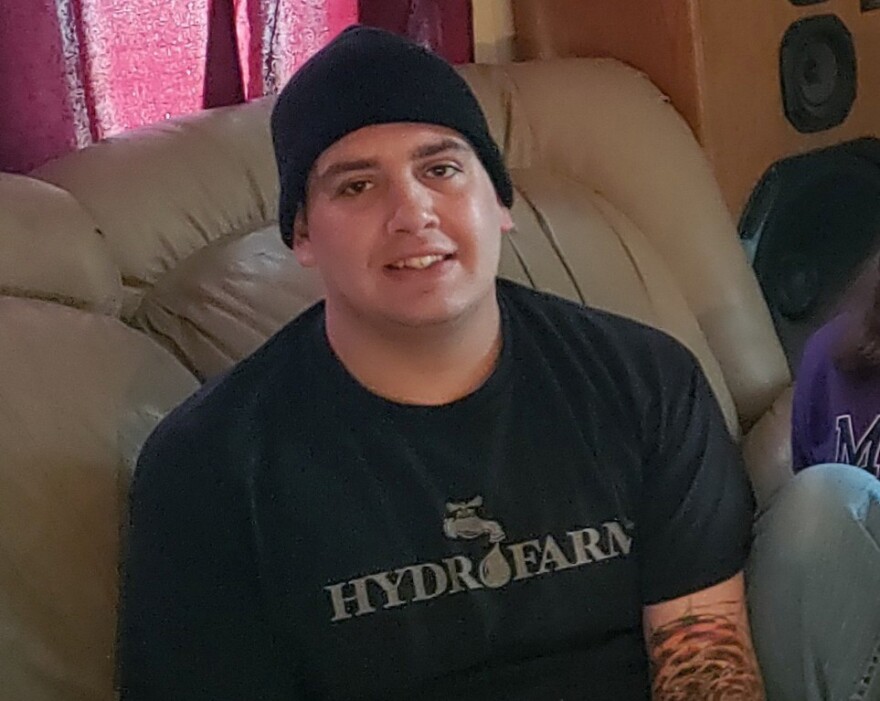 A Thanksgiving day murder that left one man dead and his brother, Justin Butterfield, charged in the killing, is placing scrutiny on Maine's beleaguered mental health system.
This is the second of a two-part series on the mental health care system in Maine. Read the first story here.
Over the past four years, Butterfield's friends say they made countless attempts to get him effective treatment for schizophrenia. As he cycled in and out of brief hospital stays, he lost custody of his daughter, he and his long-term girlfriend broke up, and he led police on a high-speed chase. Then, on Thanksgiving, he allegedly stabbed his brother, 38-year old Gabe Damour, to death.
"Why did it come to this? Why did it come so far?" says lifelong friend Nate Howard.
"Why did it have to come from one of my friends to be horrifically murdered and then the other one, you know, locked in a box? Like neither one of those boys deserved that."
Howard says there should have been a way to get Butterfield the help he needed. And some in the medical community agree.
"The tragedy here is that there were multiple points where intervention could have occurred, but where it didn't seem to be available," says Dr. Jeff Barkin, past president of the Maine Association of Psychiatric Physicians. He says the challenges getting Butterfield effective treatment were predictable. It's the culmination, he says, "of a mental health system and safety net system that has been frayed and really decimated over time by a number of factors."
Those factors, says Barkin, include underfunded services and a shortage of providers. Maine's mental health system has been under duress for decades. The state is still working to meet the terms of a Consent Decree from 1990 that requires it to maintain comprehensive services.
But friends of Justin Butterfield believe he could have been helped by an approach called the Progressive Treatment Program. The only problem, says former girlfriend Yaicha Provencher, is that she was never told about it.
"That was never an answer," she says. "That was never a discussion. It's like, how did how did we not know this? How is this such a secret?"
Provencher says she only discovered PTP was an option after Butterfield allegedly killed his brother. Now, she and others believe it would have prevented the tragedy that ended one brother's life and forever changed the other's. Advocates of PTP agree, including
Jeanne Gore, coordinator for the Maine-based National Shattering Silence Coalition.
"Tragically, our PTP program is extremely underutilized, with very few mental health professionals or family members even knowing it exists," says Gore.
She spoke at a State House press conference after Butterfield's arrest, calling for expanded use of Maine's Progressive Treatment Program. It was adopted in 2010 and requires eligible patients to follow a court-ordered treatment program, or face hospitalization. Gore says her son had been hospitalized more than 40 times before he was enrolled in PTP in 2013, and only twice in the decade since.
Psychiatrist Dr. Jeff Barkin says it can help some patients if administered properly.
"PTP is a program that in other states has reduced hospitalization rates by over 75 percent," he says. "The question is, can we stand up an effective PTP program where it's coordinated, where the hospitals can do a handoff to the less intense levels of care, including outpatient care?"
For some mental health advocates, the answer is no. Mark Joyce is director of the mental health program at Disability Rights Maine.
"When these laws were put forth, it was like, 'Oh, well, this is going to change everything. This is going to make the system great,'" Joyce says. "All the laws have passed. Is the system great? No."
Disability Rights has investigated problems with Maine's Progressive Treatment Program. In 2018, a 40 year old man enrolled in PTP died. His plan called for 24/7 supervision in his apartment. But when it was up for renewal, providers let it lapse and reduced his supervision first to every 15 minutes, then to every half hour. One week after that change, the man was found dead in his apartment. An independent investigator found that there were communication problems between providers and that a proper risk assessment had not been performed.
As a result of the investigation, Joyce says Disability Rights issued recommendations that the state establish proper oversight of PTP and ensure providers involved in the program meet regulatory standards.
"And so what we want to see is that if someone is going to get treatment, involuntary or otherwise, we want to make sure that treatment is safe, and that treatment is effective," Joyce says.
Other advocacy groups also doubt the effectiveness of PTP. Simonne Maline of the Consumer Council System of Maine says forcing treatment can actually push people away from seeking help.
"So if you're scared of the system that you're supposed to go get help from, why would you reach out?" she explains.
Maline says willing participation is considered essential, just as it is in treatment for substance use disorder. She thinks Maine should bolster peer support services, which help people become invested in their recovery.
"Especially when you have a really good pairing of a clinical person and a peer support person, and they understand each other's roles," she says. "And they work well together. It's a magical thing and can really stop some bad things from happening."
Yaicha Provencher says she's haunted by the many missed opportunities that might have helped Justin Butterfield and prevented the murder of his brother. And she hopes his story will spur change.
"I hope that we start really looking within our system and start making, even if it's small changes, you know, somebody comes in the hospital, and maybe there's a nurse that remembers this story. Or remembers and says wait a minute, let's just take an extra step here," she says.
Butterfield is being held in the mental health unit at the Maine State Prison while he faces murder charges. He's pleaded not guilty by reason of insanity, and is awaiting a court-ordered mental health evaluation.
If you or someone you know is suffering from depression or other mental health disorders, help can be found at: Maine's 24-hour crisis hotline (1-888-568-1112 or text HOME to 741741)