Growing Need Prompts Maine Med to Open Gender Clinic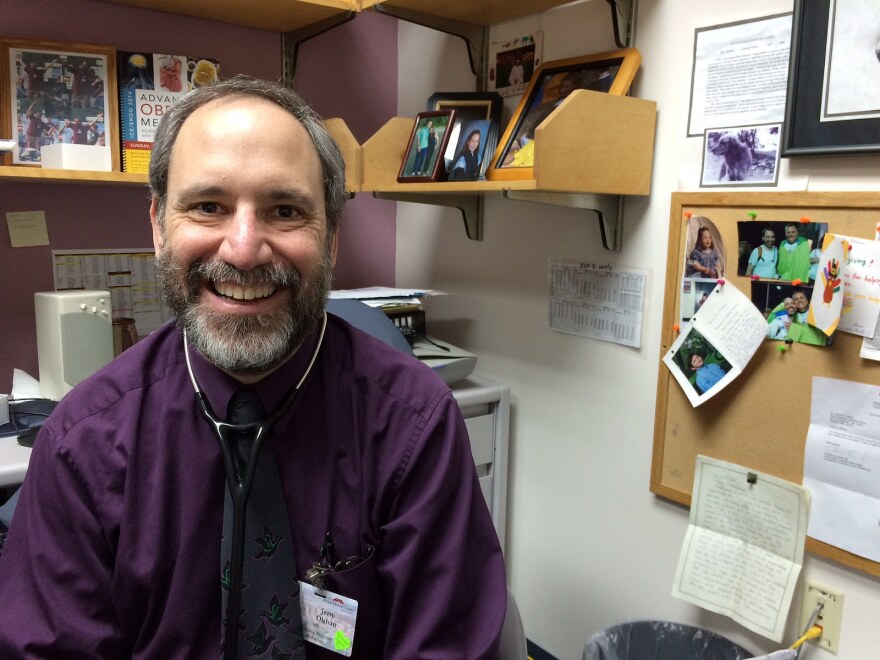 PORTLAND, Maine - As of this year, the Barbara Bush Children's Hospital at Maine Medical Center officially has a gender clinic. Though the hospital has treated transgender youth for several years, the number of patients is growing, from just four patients in 2010 to now more than 50. And the new clinic is expected to fill a growing need.
Fourteen years ago, Jen and Tom - who don't want to use their last name - adopted twin baby boys from Cambodia. And they noticed very early on that one of them was about as stereotypical a boy as you could get.
But the other - whose name was Ted - was much more feminine. And once he could talk, Jen says, it became clear that Ted was really a girl.
Jen remembers one night after dinner, when her son - whom she now refers to as a "she" - was going upstairs. "And she was having a little bit of a temper tantrum and said, 'When is Dr. Gilbert going to fix me? When is she going to cut off my 'blank' and make me into a girl?' " she recalls. "So that was, like, at age 3 - and she was just so clear about her body did not match who she was on the inside."
They went to that doctor - a pediatrician - who said Ted could be transgender. Jen says it took a while for the idea to sink in. But over the next several years, Ted's behavior and feelings were consistent. As he approached age 13 - and, more importantly, puberty - Jen says their doctor suggested Ted go to a gender clinic. "Because then the body that they're in starts to betray them," she says. "Imagine going through the puberty that didn't match who you are."
"The things that you want to prevent are those irreversible changes we stereotypically associate with a particular gender," says Dr. Jerry Olshan. Olshan is the medical director at the Gender Clinic at The Barbara Bush Children's Hospital at Maine Med. He developed the clinic after providing care to a few transgender kids and seeing how it helped them flourish.
"This is a group of patients who, one, didn't have many places they could go," Olshan says. "And, more than that, it was really almost a life-saving intervention. So you talk to the families, you talk to the kids, and you went from a situation where kids were failing in school, failing socially, suicidal, and, then over the course of years, in some cases, to healthy, well-adapted, and a new outlook on life."
Susan Maasch, of Portland- based Trans Youth Equality Foundation, says there's a growing need for transgender youth resources as more kids come out. "One of the reasons we started the foundation is we didn't want parents to float alone, like I had to," Maasch says. "I'm a parent of a trans child, and we certainly floated alone and found all the resources ourselves - all outside of Maine, in the beginning."
Ted's family lives in central New Hampshire, and his parents considered taking him to Boston for treatment. But it was difficult to get an appointment, so they came to Maine Med, where Jen says doctors and counselors are more accessible. When patients arrive, their first stop is to a psychologist. Dr. Olshan says it's important to rule out other conditions and to provide support in case a child is experiencing something called gender dysphoria.
"Probably the best way to explain it is - the kids may be perfectly fine, but since our society has a hard time accepting this incongruity - this inability for their own ideas to match biologically what they look like, people see that as strange," Olshan says. "It's probably in large part how we interact with those individuals that gives them dysphoria, that gives them what we call the co-morbidities. They can have depression, they can have other issues."
The Gender Clinic carefully evaluates each patient and works with both parents and kids to determine if a child is transgender. If that's the case, the next step is to stop the wrong puberty from progressing. Jen says about a year ago, Ted received that treatment.
"Certainly, an adolescent's brain, you know, at age 12 or 13, or even 11 - if someone is starting puberty early, that's early to make life-long decisions. So it just - it buys everyone time," Jen says.
Ted now goes by Sarah. She's 14 and takes low-dose estrogen. And Jen says she's never been happier. "She's very feminine- she sounds feminine and she looks feminine. For that male puberty to stop, it was life-changing, and I think, life-saving."
Jen says Sarah is confident, and she was very open about her transition with her peers, her teachers, and others in her community. By and large, she says, the response has been positive. The hardest part has actually been financial, because insurance doesn't cover all of Sarah's treatments. But finally, Jen says, Sarah is living as her authentic self.
Thursday, March 5, Maine Calling takes up the subject of transgender youth. The program airs at noon on MPBN Radio.