Amid Protesters' Calls, Oversight Panel Agrees to Consider LePage Investigation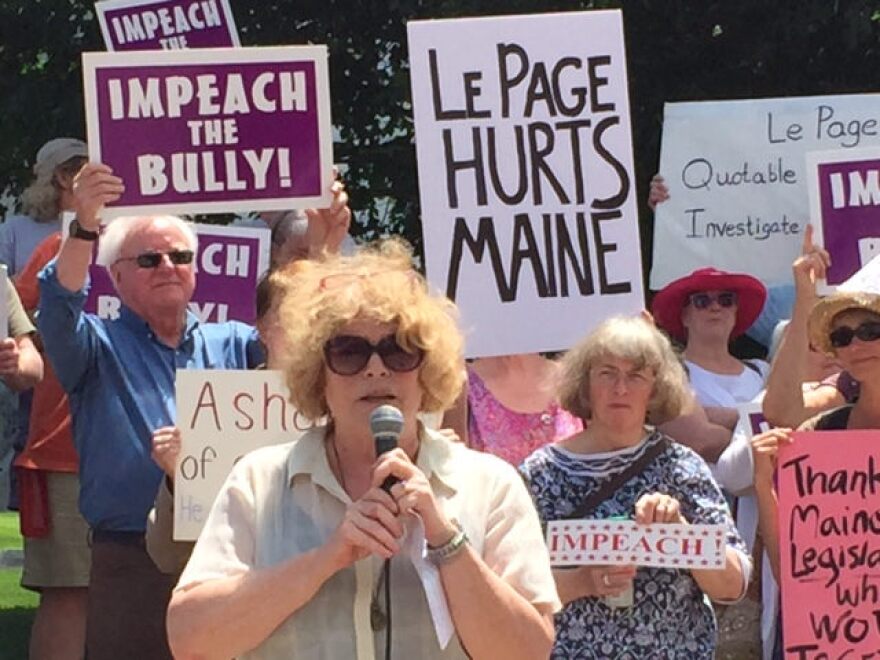 AUGUSTA, Maine - The day started out pretty well for Gov. LePage. He greeted nearly 100 supporters at the State House during an impromptu rally praising his budget priorities and "get tough" approach with legislators. But as the day wore on, nearly 200 of his opponents were clamoring outside his office and demanding an investigation into his activities. And by noon, the Government Oversight Committee announced that it would meet to discuss an investigation.
Gov. Paul LePage arrived at the Hall of Flags to see something he hadn't seen around the State House for a few months: a room full of supporters who were completely behind his efforts to reform welfare and hold dissident lawmakers accountable for their actions.

Defending the priorities that he had originally outlined in his sweeping state budget proposal, the governor made it clear that he had nothing against asylum seekers from other countries wanting to come to Maine - as long as Maine taxpayers didn't have to support them. "It is not the state's responsibility, it is the federal government's responsibilities and they're trying to demonize us," LePage said.
But while the cheers were fading away inside the State House, a couple of hundred of LePage's adversaries were milling around beneath his office window.
Democracy, in this case, looks like a 68-year-old woman from Phippsburg named Becky Halbrook, who was outraged over allegations that LePage pressured the Good Will-Hinckley charter school into removing Democratic House Speaker Mark Eves as president, even before he had started the job.
Eves, who was hired by Good Will-Hinckley in May, says he lost the job after LePage threatened to withhold more than $500,000 a year in discretionary state funding from the school. LePage acknowledges that he threatened to withhold the funds, but denies that he blackmailed anyone or abused his power as governor.
Becky Halbrook, and her friend, Cushing Samp, of Saco, say they felt it was time to speak out. "We are two ladies who decided to do something, we were tired sitting on our hands, watching things go out of control, and it didn't seem that anyone else was going to have a rally," Halbrook said.
Among LePage's more vocal critics at the rally was Rep. Charlotte Warren, a Democrat from Hallowell, who cited a litany of what she sees as LePage's high-profile missteps, from his insults to President Obama and the NAACP, to withholding bonds for the Land for Maine's Future program, to his current tactics in the Good Will-Hinckley case.
"And this month the governor wrote at least two letters to to the board of Good Will-Hinckley threatening to withhold public funds from the school if they hired a particular person," Warren said. "Gov. LePage has gone beyond embarrassing - he's become a lawbreaker."
Some lawmakers have responded to the escalating concerns over LePage's alleged misuse of his authority by calling for a probe - and, depending on the outcome, possible impeachment proceedings.
Independent Rep. Ben Chipman, of Portland, says that it's on the minds of his constituents. "My phone's been ringing off the hook, my email has been flooded with people from all across the state and in my district saying, 'Keep up the good work, we want an investigation, we want justice - we want accountability,' " Chipman said.
Shortly after noon, the Senate Republican office announced that the Government Oversight Committee would meet Wednesday to discuss allegations that the governor had improperly interfered with Eves' hiring at the Good Will-Hinckley school.