Maine Voters Make History Electing Immigrants To Local Offices Around The State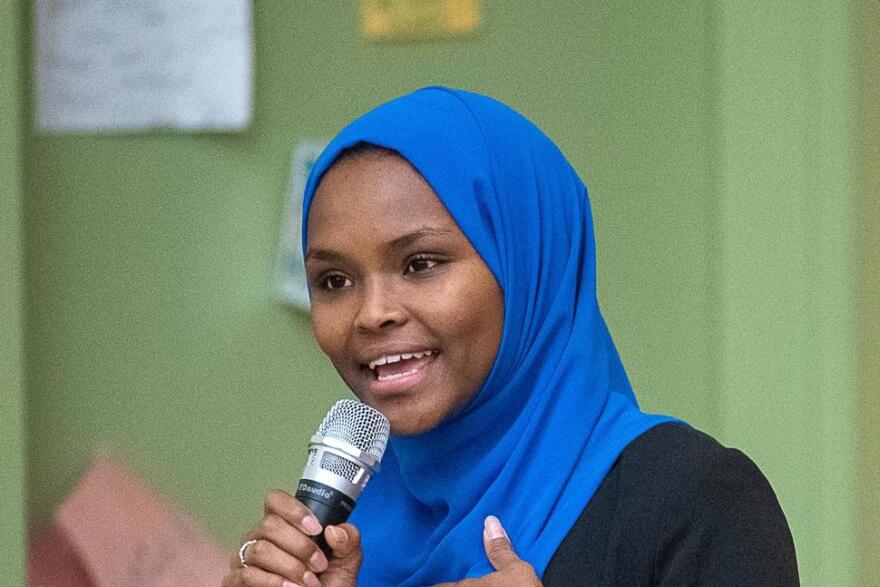 Tuesday's elections were relatively low-key, in an off-year with only a few ballot questions and no statewide candidates. But some local elections proved to be historic, as several immigrants were voted into office.
Over the past few decades, the city of Lewiston has seen its demographics change, as thousands of Somali-American immigrants have moved to the city. But it wasn't until Tuesday night that Lewiston voters elected a Somali-American to the city council.
23-year-old Safiya Khalid says she spent months knocking on doors, talking with neighbors and advocating for investment in infrastructure and affordable housing in her community. While the in-person conversations were positive, she says her online accounts were flooded with racist and anti-Muslim messages over the past few weeks.
"I had to temporarily delete my Facebook app and have a friend look it over and monitor the comments to help me with that, while I focused my energy on the doors," Khalid says. "So think that's what got me through. Meeting people at doors and just de-activating, getting rid of social media for a second."
Despite the negative messages, Khalid became one of several immigrants elected or re-elected to public office in municipalities across the state.
"It's really exciting, it's just incredible," Khalid says. "I had no doubt that so many people would win, from Bangor, to Portland, to Lewiston."
In Bangor, Angela Okafor, an attorney and business owner who emigrated to the United States from Nigeria, won a city council seat. And Tania Jean-Jacques, who was born in Haiti, was elected to the school board in nearby Hampden.
"It's just people who look different realizing that we need a seat at the table," says Jean-Jacques. "And if there's no seat, then maybe we should bring a folding chair. Because it's worth it for our children. Because we live here."
And while local issues motivated some candidates this year, larger forces were also a factor. Claude Rwaganje arrived in Maine from the Democratic Republican of Congo more than 20 years ago and was elected to the Westbrook City Council Tuesday night. He says that while issues like affordable housing and workforce development are important to him, the national dialogue around immigration also played a role in his decision to run for office.
"So when you see, from the top to the bottom, people calling immigrants criminals, calling immigrants — coming to take away. Calling immigrants all kinds of names, that has not resonated very well with us," he says.
And Rwaganje says the votes cast for him and other immigrants are a positive sign that voters do not agree with the anti-immigrant rhetoric.
"That's why they came, en masse, to really say, we need to support you."
In Lewiston, City Councilor Michel Lajoie, says the addition of Safiya Khalid will offer the Council two needed perspectives, as she is a Somali-American and a young person.
"Some people may not agree, but the fact of the matter is we need young people to be more involved," Lajoie says. "I think this is a perfect, perfect chance for that to happen."
And newly elected Westbrook City Councilor Claude Rwaganje says he hopes Tuesday night's election will inspire other immigrants to engage in the political process and maybe even run for public office.
Originally published 4:44 p.m. Nov. 6, 2019