Pulse Newsletter: A Look Back On 2020, With No End In Sight
A lot happened in politics in 2020. Too much.
But despite the news' fast pace, the year often felt like a long, terrible car ride to a destination unknown. Ignoring our pleas to hurry up, the driver slowly tugged us through a kaleidoscope of stupefying, horrible and extraordinary events.
Are we there yet? No.
To understand where we might be going, we need to remember where we've been.
January
The new year begins the way the old one ended.
President Donald Trump — impeached by the U.S. House of Representatives in mid-December for asking the president of Ukraine to dig up dirt on Democratic challenger Joe Biden — continues his pressure campaign to ensure he's acquitted by Republicans in the U.S. Senate.
Republican U.S. Sen. Susan Collins of Maine, who launched her reelection bid the same day the House voted for impeachment in December, assumes her Trump-era position on the proverbial hot seat. Some observers view her as a potential GOP vote to convict the president, but Collins signals displeasure with the House impeachment process.
She later announces that she's likely to vote to subpoena new witnesses, but it's becoming clear that there aren't enough Republican votes to make it happen.
Meanwhile, Collins reports a record $10.9 million in campaign donations in 2019. Her leading challenger, Maine House Speaker Sara Gideon, touts $7.6 million. Some observers project a $50-$60 million contest.
They are wrong.
At the Maine State House, legislators return for a four-month session to take up emergency bills and a supplemental spending plan. Gov. Janet Mills uses her Jan. 21 State of the State address to appeal for bipartisanship.
"We are not Washington. We are Maine," she says.
Mills' speech is forward-looking, but not clairvoyant. She makes no mention of the emerging public health threat that will soon consume her second year in office.
That same day, the U.S. records its first known case of the novel coronavirus in Washington State. The World Health Organization declares a global health emergency on Jan. 30.
February
The president's travel restrictions on visitors from China go into effect Feb. 2, but more than 27,000 Americans would eventually return from the country. Meanwhile, visitors from Europe continue to travel freely until March 12, eventually seeding a massive outbreak that would bring horrors to residents and health care workers in New York City.
On Feb. 4, Collins announces that she will vote to acquit the president of impeachment charges.
"As I concluded in the impeachment trial of President Clinton, I do not believe that the House has met its burden of showing that the President's conduct — however flawed — warrants the extreme step of immediate removal from office," she says in a statement.
Independent U.S. Angus King takes a different view.
"History may record this week as a turning point in the American experiment — the day that we stepped away from the Framers' vision, enabled a new and unbounded presidency, and made ourselves observers rather than full participants in the shaping of our country's future," he says. "I sincerely hope that I am wrong in all this, but deeply fear that I am right."
The Republican-controlled U.S. Senate acquits Trump Feb. 5.
In a subsequent interview with CBS News, Collins says Trump has learned his lesson from impeachment.
As an emboldened Trump intensifies his norm-busting behavior, Collins acknowledges that her view was "aspirational."
Colby College releases a Feb. 18 poll showing Collins and Gideon in a statistical dead heat. Collins' internal polling numbers are worse.
"We were in a bad spot right then. That was the tail-end of impeachment, which, no surprise, was horrible for us," Collins' chief of staff Steve Abbott would later say.
With the coronavirus beginning to spread throughout Europe and Asia, the president declares Feb. 26 that Americans are at "low risk" of getting sick.
Americans would learn months later that he knew better.
March
The virus rages, but its prevalence is not known because the U.S. CDC botches rollout of widespread testing, a setback that will dog state public health officials for months.
Democratic presidential primary contests continue, including in Maine, where Biden slips past U.S. Sen. Bernie Sanders of Vermont to capture a plurality of delegates.
Maine reports its first confirmed COVID-19 case March 12: a Navy reservist who had just returned from Italy.
"The Maine CDC has been preparing for this eventuality since the end of last year," Gov. Mills says during her press conference.
Legislative leaders abruptly announce the Legislature will adjourn a month early. In a bipartisan vote, lawmakers quickly pass a $73 million coronavirus response bill and grant Mills expanded powers to deal with the pandemic.
The spending bill marks a rare moment of bipartisanship that will later be replicated by Congress on March 26 with the passage of the Coronavirus Aid, Relief, and Economic Security, or CARES Act, a $2.2 trillion stimulus bill that includes direct payments to Americans, expanded unemployment benefits and the Paycheck Protection Program co-authored by Collins — an achievement that would later boost her reelection bid.
While the president continued to downplay the pandemic, states shoulder the bulk of the response and compete with one another to outfit health care workers with protective equipment and secure scarce testing supplies.
Mills, initially reluctant to close restaurants and schools, does so in a flurry of executive decrees culminating with a stay-at-home order on March 31.
Seven Mainers with COVID-19 die before the month is over. The first, Albert "Kerck" Kelsey, a historian and author, passed away March 26 at OceanView in Falmouth at age 87.
He is the first known Maine casualty of the pandemic.
Kelsey remains one of the few publicly known victims of COVID-19. By year's end more than 300 other Maine residents will pass away with the disease, often alone and physically separated from surviving friends and family.
April-May
COVID-19 cases continue to accumulate in Maine, but large spikes remain rare. Nevertheless, Mills begins to experience the political pitfalls of her pandemic restrictions that limit business operation and travel.
It turns out that suppressing spread of the virus leads some to question why the restrictions are necessary in the first place.
President Trump, sensing his reelection could be in trouble amid a stalled U.S. economy and a frequently criticized response to the pandemic, begins calling on Democratic governors to "reopen" their economies.
"LIBERATE MINNESOTA!" he tweets on April 17, followed by "LIBERATE MICHIGAN!" and "LIBERATE VIRGINIA, and save your great 2nd Amendment. It is under siege!"
Trump's tweets follow coordinated "reopen" protests at state capitols, including in Augusta. The demonstrations are bolstered by his allies in conservative media, including Fox News personality Tucker Carlson, who invites Sunday River Brewing Co. owner Rick Savage onto his April 30 show.
Savage tells Carlson that he's going to defy the governor's operating restrictions. He then reads her private cell phone number on the air.
The pandemic is becoming partisan. Governing remains difficult.
The Maine Department of Labor struggles to roll out the CARES Act's expanded unemployment benefits and out-of-work residents wait weeks and months as the state weeds through a backlog of claims.
At the same time, public health officials in Maine continue to press the federal government for scarce testing supplies.
The feds tell governors to develop their own testing programs. Maine announces its partnership with IDEXX on May 7.
Mills says the testing deal will facilitate her phased reopening plan for the state economy.
"This changes everything," she says.
But some things don't change.
Former Republican Gov. Paul LePage continues to tease a run against Mills in 2022 and attends a May 16 demonstration against Mills' pandemic response outside the State House, arriving in a Lexus SC430 with Florida license plates.
He reportedly remains in the car and speaks to demonstrators from his cellphone.
On May 25, a Minneapolis police officer puts his knee on the neck of George Floyd for eight minutes and 46 seconds, killing the Black man after arresting him for using a counterfeit $20 bill.
The country, already divided and on edge, feels like it's about to come apart.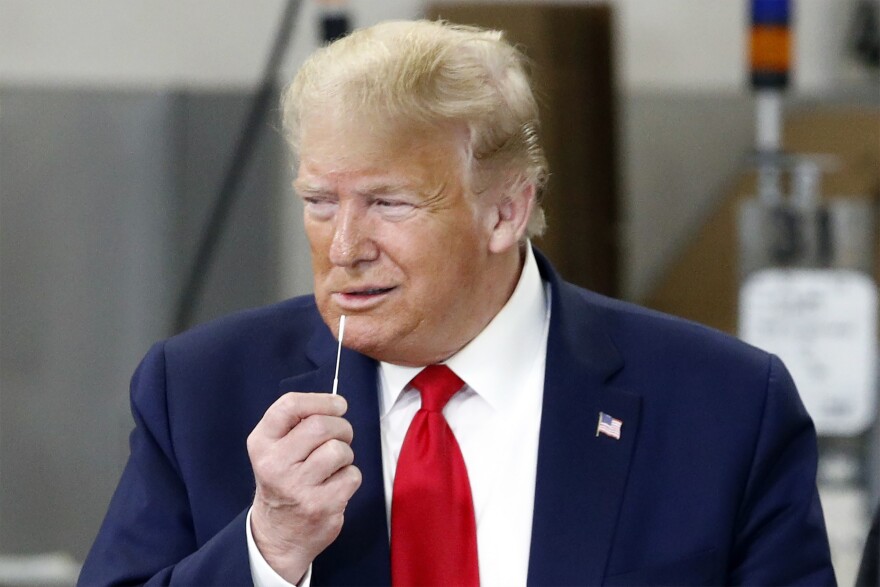 June-July
As protests over Floyd's death sweep across the U.S., Trump on June 1 orders the clearing and tear-gassing of peaceful protestors from Washington, D.C.'s Lafayette Square so he can pose for a photo-op in front of a church.
The next day he tells governors on a conference call to dominate protestors in their states with overwhelming force and mass-arrests.
Mills is on the call.She recommends the president postpone his planned visit to Maine on June 5.
"I'm very concerned your presence may cause some security problems for our state," she tells him.
Trump is defiant.
"She tried to talk me out of it. Now, I think she probably talked me into it," he says. "She just doesn't understand me very well."
Air Force One touches down at Bangor Airport the afternoon of June 5. LePage greets Trump on the tarmac. The two waste little time bashing Mills.
"You have a governor who doesn't know what she's doing," Trump says to LePage at the press briefing. "She's like a dictator."
"Yes she is," replies LePage.
Mills issues a response later that day.
"I have spent the better part of my career listening to loud men talk tough to disguise their weakness. That's what I heard today," she says. "I don't care what the President says about me. I care what he does for Maine people. And that's not very much."
That same evening, a massive crowd of demonstrators lies face down on Commercial Street in Portland to protest Floyd's death.
As questions surround the future of the racial justice protests, primary contests for congressional candidates continue apace.
Republican voters ultimately pick former state Rep. Dale Crafts to challenge Democratic U.S. Rep. Jared Golden, while Democratic voters pick Sara Gideon after national Democrats effectively boxed out her progressive challengers with a flood of donations and outside spending.
Colby College releases another poll July 28 showing Gideon with a five-point lead over Collins.
August-September
The politicization of the pandemic continues as public health experts warn of another surge in cases in the coming autumn and winter.
Mask wearing has become partisan. Meanwhile, Maine's pandemic response receives accolades from the public health and scientific community.
Mills' economic restart plan proceeds with some hiccups — namely stalled plans to restart restaurant operations just days before they were scheduled to reopen.
Democrats officially nominate former Vice President Joe Biden to take on Trump in a convention held virtually because of the pandemic.
Trump accepts the Republican National Committee nomination with a speech delivered from the White House. He brushes off criticism that the event is a breach of ethics laws and the U.S. CDC's pandemic guidelines.
The RNC declines to update its party platform and instead votes to support Trump's "America-first agenda."
The RNC's declaration further cements Trump's grip on the party. But back in Maine, Collins barely mentions the GOP's standard bearer.
Collins declines to say whether she'll vote for the president when pressed by Gideon in the first debate of the contest on Sept. 11.
"Let me say this: I don't think the people of Maine need my advice on whom to support for president," Collins says.
Collins does criticize Trump for downplaying the pandemic.
"I believe that the president should have been straightforward with the American people," she says. "The American people can take hard facts. He had an obligation as president to be straightforward."
Supreme Court Justice Ruth Bader Ginsburg dies a week later, reanimating a race already shaped by judicial appointments.
While Senate Majority Leader Mitch McConnell moves quickly to confirm Ginsburg's replacement and install a 6-3 conservative majority that could shape the U.S. Supreme Court for decades to come, Collins says she'll oppose any nominee if the vote occurs before Election Day.
September polls continue to show Gideon either leading or tied with Collins. But the surveys are missing several key issues influencing the Maine voters who will ultimately tip the contest.
October
The month begins with a bombshell: President Trump has COVID-19.
It's believed that the president contracted the disease during a mostly maskless ceremony to honor the nomination of Judge Amy Coney Barrett to the U.S. Supreme Court. A dozen other attendees of the event are infected.
The president recovers quickly after receiving treatments largely unavailable to most Americans and returns to the White House after a brief stay at Walter Reed National Military Medical Center.
It's unclear how Trump's infection affects the presidential race, if at all. By now, pollsters and political observers are predicting a landslide win for Biden — a narrative that appears to be affecting the U.S. Senate race in Maine.
While Gideon and Democrats pour more than $100 million into the contest and attempt to handcuff Collins to the president, the Republican tries to localize the contest and highlight her efforts to help Maine, including the pandemic-relief Paycheck Protection Program.
Meanwhile, Republican groups target Gideon's tenure as speaker of the Maine House of Representatives and run millions of dollars in ads that accuse the Democrat of staying silent when a state representative was accused of engaging in romantic or sexual relationships with high school girls while he was a teacher and a track coach.
The campaign is bitter, ugly and well past $200 million in spending.
Polls show a tight race. The outcome won't be.
November
Collins wins reelection Nov. 3, defeating Gideon by nearly nine points and winning a majority that prevents a ranked-choice voting runoff.
It's clear from the early results how the Republican won: Enough voters in traditional Democratic strongholds split their ticket, voting for Biden and Collins.
Gideon, despite spending $60 million and benefiting from millions more in outside spending, did not convince those voters that it's time to jettison Collins.
"I feel like this is an affirmation of the work that I've been doing in Washington to fight for the people of Maine everyday," Collins says during her victory speech in Bangor.
Collins' victory increases the chances that Republicans will hold the U.S. Senate during Biden's presidency. Voters may have rejected Trump, but many were not convinced that Republicans should be ousted, too.
Jessica Taylor, the Senate editor for the Cook Political Report, would later argue that voters could only punish Trump in the 2018 midterm election by voting out Republican members of Congress.
"This time though, you could vote against the president, but you could also vote for your Republican senator or the Republican member of Congress that you liked. And no one typified that more than Susan Collins," she says.
Public polls never showed Collins with a lead. They missed the split-ticket voters.
"We felt really sure there wouldn't be very many Biden voters that moved to Susan Collins. And we were wrong," Colby professor of government Dan Shea says Nov. 4.
Maine voters also reelect Democratic U.S. Rep. Chellie Pingree in a landslide and U.S. Rep. Jared Golden in a convincing victory.
Democrats also retain their majorities in the Maine Legislature. Gov. Mills, now confronting skyrocketing COVID-19 cases and deaths, will finish her first term with Democrats in control in Augusta.
Biden secures his victory Nov. 7 when media outlets call the race in Pennsylvania. He vows to unite the country. It's a task made more difficult by Trump's refusal to concede and his flogging of baseless claims of widespread voter fraud.
December
Trump's legal challenges to the election continue to flame out, as do his attempts to use the power of his office to overturn the election.
Democrats and a sprinkling of Republicans call these efforts an assault on U.S. elections and democracy. But the president's supporters aren't persuaded. Some latch onto wild conspiracies involving former Venezulan President Hugo Chavez, who died seven years ago.
An NPR/Marist College poll shows strong majorities of Americans believe the election results are accurate, but only a quarter of Republican respondents do.
The staying power of this view among Republicans is unclear, but some elected Republicans aren't dissuading it. Some believe it. Others are enabling it because they're afraid of Trump's base of supporters.
More than 100 Republicans in the U.S. House back a Texas lawsuit that asks the U.S. Supreme Court to throw out thousands of votes in key swing states. The lawsuit cites voter fraud so widespread that it can't prove it.
The U.S. Supreme Court declines to hear the case.
Nevertheless, the long term impacts of Trump's quixotic efforts to overturn the election are unclear, but worrisome.
Meanwhile, the pandemic rages, claiming over 322,000 Americans so far. Two Americans with the disease die every minute.
Vaccines are beginning to arrive, but so is the misinformation about their safety and efficacy.
The calendar will soon flip to 2021, but the wretched political journey of 2020 seems unlikely to end any time soon.
Click here to subscribe to Maine's Political Pulse Newsletter, sent to your inbox on Friday mornings.