Maine Fishermen Worry That New Regulations on Herring Will Hurt Small Businesses, Lobstermen
A day after fishing regulators adopted strict new measures to prevent herring stocks from collapsing, some New England fishermen say they fear for their own survival.
Herring are a crucial forage fish for whales, seabirds and other predators. But they're also the primary bait fish for lobstermen around New England. And, in the face of bleak stock assessments, there's disagreement about the best way forward for the fish and fishermen.
At the New England Fish Company on Portland's waterfront, Ryan Raber and his sister, Susanna, say they will likely have to lay off some crew and staff to keep their second generation bait business going. They have 25 employees. Herring and mackerel are the primary species the company targets for bait, but if the rules adopted by the New England Fishery Management Council are approved, the Rabers and others won't be able to catch herring the way they used to or catch as much.
"Last year we had a quota of about 100,000 metric tons," says Ryan Raber. "This year industry worked with NOAA to reduce it to about half that to 55,000 tons. Next year's quota will be down to around 15-thousand tons."
And it's not just the quota that has them worried. Regulators have also approved a 12-mile buffer zone for mid-water trawlers. That means no fishing for herring close to shore from Maine to New York.
"Vessels that operate midwater trawlers are going to lose about 75 percent of their historic fishing grounds because of a new buffer that we feel has no scientific basis or justification," Ryan Raber says. "We'll probably wind up challenging it in court."
The Rabers they aren't the only ones who are figuring out their next steps.
"I predict we will see acute bait shortages, likely have days where lobstermen aren't able to fish because they won't have bait, and when we do have bait, I anticipate that we will be on some sort of rations to get through," says Patrice McCarron, the executive director of the Maine Lobstermen's Association.
McCarron says the lobster industry did support some cuts to the quota because of the poor stock assessment of herring and fewer baby fish. But despite the low biomass, scientists can't point to overfishing as the cause. And McCarron says that makes removal of 77 million pounds of fish from the bait supply all that more difficult to swallow.
"We literally have already had our herring landings cut in half since 2013, but now we are gonna take an additional 70 percent reduction in one year," says McCarron. "That is a tremendous ask for any fishery."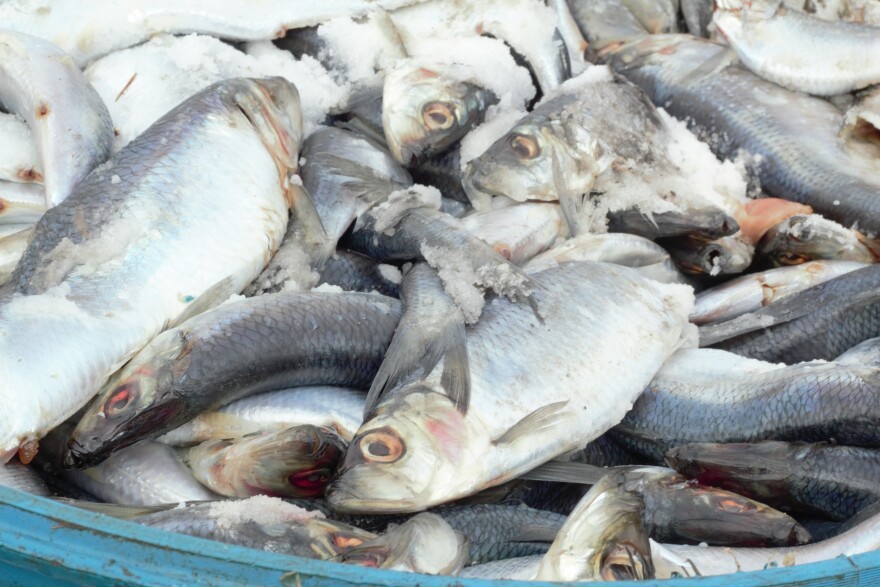 Environmental groups say they didn't get what they wanted either. Among other things, they'd been pushing for a 50-mile buffer.
But Peter Baker, of the Pew Charitable Trust, says that the action taken by fishing regulators is a great step toward protecting the marine ecosystem and the coastal businesses that depend on it. He's pleased, for example, that the council has said that 20 percent of the herring stock has to be kept in the water as forage for other species. He says that will protect animals along with inshore fishermen who depend on striped bass, cod and tuna.
"We've seen big conflicts between these ships and the traditional fleet because the ships tow up their gear," says Baker. "They take so much herring out of the water at one time that there's not enough herring left to feed the birds, to feed the whales and the striped bass and the tuna."
A pair of trawlers, Baker says, can tow one net that's six stories tall and as long as a football field between them, scooping up everything that gets in their way.
But Susanna Raber points out that she and her brother and the other mid water trawler operators have the same catch limits as small boats. And she's concerned for all of their livelihoods.
"I was trying to keep a positive outlook, even though we saw this coming," she says. "I was still devastated. I immediately thought of my children. I'm a single mom and they depend on me. So I am worried. I know we'll get through this. We've had rough years. But I'm really worried about other people in the industry that are going to lose their jobs. It's devastating."
The rules adopted by the New England Fishery Management Council must now be approved by the National Marine Fisheries Service.