LePage's Plan To Close County Jails, Overhaul System Falls Apart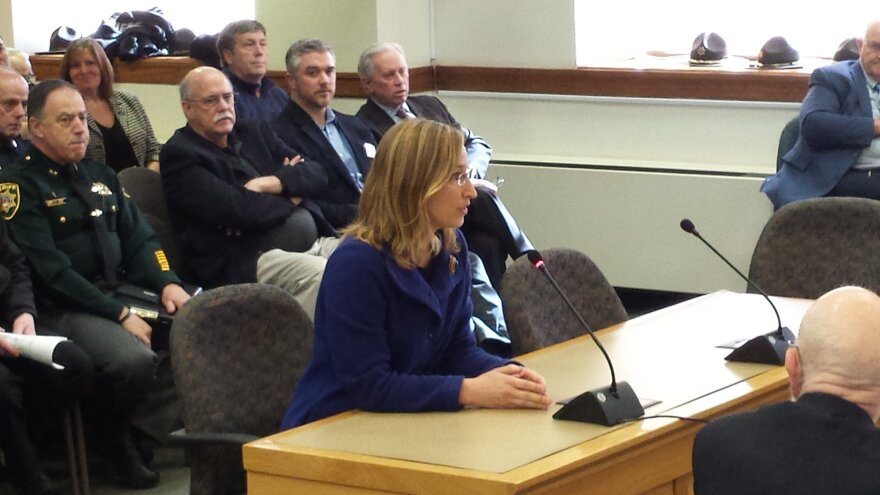 Less than a month after the LePage administration announced a controversial plan to overhaul the county jail system, the governor is backing away from the proposal, which was billed as a way to save $10 million.
State funding for county jails runs out at the end of June, and it's unclear where lawmakers go from here.
Department of Corrections Commissioner Joseph Fitzpatrick was a no-show at a scheduled briefing of the Legislature's Criminal Justice and Appropriations committees Tuesday. The commissioner had agreed to answer questions about the DOC's recently announced plan to close five county jails and restructure the rest.
Instead, the governor's chief of staff Holly Lusk opened the meeting with some brief remarks.
"My understanding is that the governor had been informed that this particular piece of legislation was not received in a particular way that led him to believe that it had much chance of success, and so, consequently, he believed that it was not a good use of time for Commissioner Fitzpatrick to attend today," she said.
In other words, the LePage administration is giving up on its proposal to overhaul the county jail system, which was only made known to sheriffs through the release of a report earlier this month. So instead of hearing from the DOC, committee members heard from county sheriffs who showed up to attend the briefing.
"You know its disappointing that we had come up to get a rationale," says Cumberland County Sheriff Kevin Joyce, is president of the Maine Sheriffs Association.
Joyce criticized the way the DOC released the jail report as "unsettling." It calls for significant changes in the way jails are funded and managed, including creation of three regional jail authorities. But Joyce and other sheriffs say it contains some fundamental flaws that could wind up costing taxpayers more money and headaches in the long run.
"This plan, you know the headlines are, 'Save $10 million.' Well, what individual is not gonna look at that and say, 'Wow, I'd shut down some jails to save $10 million.' But when you peel back the onion and look at what it really means, you've got some jails that are potentially being shut down in this proposal that are gonna leave some police departments out there hanging," he says.
For example, Joyce says small police departments with one or two officers on the road at a time may be less inclined to make arrests if they know they have to drive farther to transport someone to jail. He says the plan calls for him to take on 160 additional inmates in Cumberland County, and that means he would have to hire more staff, which are already hard to find.
And then there are health care costs for those inmates.
"Then I would have to increase my medical contract. Right out of the gate, $317,000 just for my medical costs. Play that out against the other jails behind me," Joyce says.
Behind him was Penobscot County Sheriff Troy Morton, whose jail partners with two of the five jails slated for closure in the report: Washington and Piscataquis counties.
"One of the things that the report doesn't even address is that if those jails are closed, I have several inmates in both of those jails and they're gonna come back to Penobscot County, which is already overcrowded," he says.
Just last week the Penobscot County Jail had a population of 223 inmates for a facility designed to hold 157 beds. Another 58 were boarded out in other county jails, and 60 were in home-confinement programs.
Morton says sheriffs have been working with lawmakers, county and state officials trying to "fix" the beleaguered correctional system for several years, but he says all the good work has been put on hold with the LePage administration's plan.
Lawmakers now have the option of borrowing some of the plan's parts or scrapping it altogether before the end of the legislative session.